The Ebb of Reason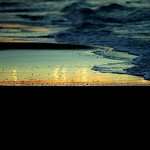 Wed, 15 Oct 2014
An abstract thought
imagination fragments
we clutch them to our breast
Questing to turn back time
instead we lurch ahead
But time is fleeting
you're not breathing
Can you hear me anyway?
A lucid dream
waking nightmare
my reasoning is ebbed
To find the light 
we look inside
Will I see you there?
Emotions flowing 
Where are you going?
Can I meet you there?