Wanted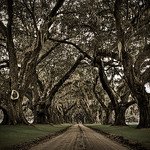 Sat, 25 Oct 2014
Wanted
Nanny for small, quite family.
Will receive room and board 
along with salary. Please 
apply in person at the 
Malbis Plantation Estate. 
Ellie had been scouring the classified ads for months now looking for a job that she believed she could actually do. The usual listings were there for nurses and truck drivers, but finally she came across an ad that seemed to just jump out at her. Now that is a job I could do Ellie said to herself. There is no way I could screw up a nanny job! Now that Ellie had this interview to look forward to she would have to hurry up and jump in the shower and pick her nicest, most professional outfit she owned. 
Ellie had heard all sorts of stories about the Malbis Plantation, they usually involved a ghost from when it was a working plantation. There is a family crypt on the estate, which would probably be where all the creepy stories came from, but Ellie definitely was not afraid of some old graves or by what happened to be in them. She would play in the graveyard all the time when she was growing up. The church by her childhood home had one back behind it. All the other children had been scared to go in there, especially at night, but Ellie had always loved it.
Once she was done getting ready Ellie nearly left without her gray suit jacket that matched the skirt. She wore a pink camisole underneath and had her hair up in a tight bun. One more glance in the mirror and she was finally out the door and had only a twenty minute drive to the estate. The driveway was more of a path with two tracks that lead the way. Everything was overgrown and the main house was in very poor condition. The slats were falling and it was in need of a wash and fresh paint.
Ellie got out of her car and started up the stairs only to nearly fall when the boards that made up the steps gave way. Catching herself on the one place the banister looked solid, Ellie regained her balance and continued carefully up the stairs and onto the porch. The house was more green than white and Ellie could only imagine how beautiful it once was. She took the rusty knocker in her hand as it screeched in protest and she knocked three times.
The door swung in but no one was there at the door to receive her. Gathering herself from bewilderment she stepped inside. "Hello, anyone there?" she called out. 
"Yes, yes, please do come in. You must be here for the nanny position. Yes, yes, you look just the part."
An older woman was coming down the main stairs, gliding was more what it looked like. Thin and tall with dark hair and eyes she looked very lovely. Her face had distinct angles in her cheeks and chin, and lines were forming where ever she had corners. She was also very pale and smelled like fresh cut roses. 
"Yes I am here for the interview, my name is Ellie, how are you today Mrs.?"
"Very well, very well."
The woman's hand was ice cold when Ellie clasped it as she introduced herself to the pale woman.
"Would you like to meet the children, they have been waiting for you?"
"Aren't we going to do an interview first?"
"We already have and you are just perfect! Please, please, just follow me."
The woman lead Ellie up the stairs and down a hall. Everything was so dusty, it didn't look like anything had been done in years. Some things had been covered over to protect it but Ellie did not see how it did much good. "It looks like there are lots of things that need to be done around here."
"Yes, yes, I have barely been able to get started with everything else going on but I am sure much more can be done now that you are here."
"Yes of course, so you only recently had come here, do you know how long it has been empty?"
"For almost fifty years if you can believe it, and always in the family. It definitely needs some work I must admit."
"Yes ma'am, but like you said, I am sure we can get it done."
The lady opened a door to a little room that was also covered in dust and smelled like decay. "This is your room, I hope it will suit you."
"It will take a little work but I am sure it will do nicely. The view in here is outstanding!" Ellie exclaimed. Which it really was, you could see all the grounds from the window and it was facing east so you could see the sunrise every morning. 
"Now if you will follow me, we will go meet the children."
Ellie followed the woman to a small set of stairs that lead to what Ellie could only guess was the attic. Ellie thought to herself, could this really be where the children play? Sure enough when they reached the top of the stairs two little girls in plain yellow sun dresses, looking much like their mother but with their hair in pig tails, were sitting in candle light having a tea party.
"Girls, this is Ellie, she is going to be your nanny. Say hello."
"Hello," the girls said in unison, "do you want to play with us?"
Ellie walked towards the little girls, "Sure, are we having a tea party? Can I serve you my little princesses?" Ellie sat down with the girls and picked up the tea pot. 
"Yes please," the girls said in unison once more. Ellie served them tea and chatted away with the girls as the pale, cold woman walked away, back down the narrow stairs, leaving Ellie talking and serving to no one in the little attic for all eternity. For the little girls and their mother were nothing more than the ghosts of Malbis Plantation.