Alien Opportunities Ch.2 : An Introduction To The Alien Household Part 3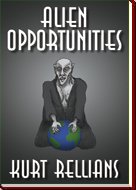 Mon, 23 Dec 2019
    His penis quickly lost its strength, even as Braidt's urgency seemed to grow. There was no sign that she was concerned. He was not inside her, nor had she given any indication that she wanted him inside her. She seemed merely to want to stroke him, and above all to gaze upon him. Would that be spoiled now his erection was lost? Would she lose interest in him? Her hand left his penis, wandering over his torso before returning to it. Otherwise she masturbated herself as before, unperturbed. Chris had lost his erection before during sexual activity, every single time something would go wrong at some point, and prostitutes on those few occasions would rarely help. Sometimes he had had difficulty finding his erection to begin with; other times, more commonly he would have it to begin with, but it would go as he became used to the woman, and his passion reduced. One had told him that he needed kinky thoughts to keep his interest, he was no normal man. That was possibly true, his mind wandered, however much his mind thought the woman was beautiful. The prospect and responsibility of creating a hardened penis, and keeping it hard enough to penetrate and keep going had often led to failure. He came to expect failure. It did not matter so much, the important thing was to be in the presence of a lovely woman, in his case always prostitutes. He was often happy to masturbate himself in their presence, to finish off the experience. This was the way it often had ended, and that was alright.
     Braidt's orgasm was finally over it seemed. It had been going on for a long time, rising and falling in intensity, from minute to minute so he had thought it was over on a few occasions, and he had begun to feel relief that this strange and humiliating experience was virtually over. In those quiet moments the whimpering subsided and Braidt put renewed effort into stimulating Chris's penis, which he had to admit he was enjoying. He had found that he could be aroused by the alien, but as the time passed he began to tire. Her concentration and patience were intense; he had begun to think that she would never end. His penis lost its strength on more than one period as her eyes savagely darted across his torso and face. The loss of his arousal seemed not to register upon her except that from time to time she would renew her efforts on his penis and her strokes of sensual massage. There was no evidence that his reducing interest had any affect on her own arousal. She was embarked on her own very alien orgasm nothing could stop it except perhaps for his own escape from the room. If he had fallen asleep naked in front of her he imagined that she would have continued to orgasm, touching and focussing on his unremarkable contours. He found his penis came back to life at her touch and his own from time to time. The familiar psychological struggle, fought with time conscious prostitutes, to keep it hard, did not apply here. He was free of the responsibility, although he had now a natural desire to complete his own process of fulfilment. Whether he would remained uncertain, despite his occasional returns to full strength. After her cessation, would she have any desire to let him finish? Would he be sufficiently aroused to finish. Would she order him immediately to clothe himself and get on with some cleaning? Would she dismiss him from her employment having made use of him? Somehow he did not think that was likely, but anything was possible. Would Urilt dismiss him in anger if he found out what his wife was doing behind his back? That seemed more likely to Chris. He hoped this would end soon and Urilt would never find out.
     At one point one of his fears was realised. He sensed a presence behind him, at the doorway. Chris twisted his head to see. He could just make out another alien figure standing in the doorway, watching. He was quite sure this was not Urilt, who was taller and more powerfully built. Therefore it must be female. He did not really recognise all the females he had seen in this house yet. He had not been formally introduced to any but Braidt so far, although he had been in the lounge where a few, young and mature, were present, on a few occasions. This one was mature as well as he could tell. Naturally his penis, which had been hard at that moment, was distracted and lost strength again. After only a short time the figure in the doorway moved away, a belated respect for privacy he wondered. He ardently wished there were doors on these rooms, but it seemed to be a feature of the aliens that when they lived in human homes on Earth, they always took off the interior doors. The same applied in the office of the company.
    Chris turned his head involuntarily in the way that animals, including humans and Starmanenans do when someone or something is looking at them. This time it was no female of the household but the head of it, Urilt himself. With fear of the consequence of being caught in the act of sexual pleasure with the alien's wife Chris felt rising panic. To his own horror he realised that his arousal was so close to completion that he did not even want to break off from this dirty interspecies sexual communication. His body was expecting the ultimate human excitement. Braidt had prepared him too well and the end was predictable. His rational brain tried to resist but it was too late, his body was taking him over the top, despite the appearance of the figure he least wished to see at this moment. He knew he was caught. The crime was committed. He had been caught redhanded having sexual play with Urilt's foremost wife. It was done now. He would have to receive his punishment, the sack at the very least, but nothing he could do now could avert that. He might as well come, he was going to come anyway. He felt it rising and could not escape it. Braidt gently licked the glans of his penis with her long tongue, wrapping it as she massaged it with her muscled grey arm in the subtle rhythm he had shown her. She was quite the expert, although she had known him intimately for only an hour and a half. Her free arm was free to spread over his chest, to massage all those places where so few Earth women had been before, below his testicles, around his arse crack, his nipples, and everywhere else. She leaned forwards and sideways giving him sensuous views of her near human flesh. Her torso fascinated him and he gazed upon it as she moved, like a slow dancer. This alien was erotic, perhaps even as strong as a pretty Earth woman would be to him. Her devotion to his sexual needs seemed far greater than any he could imagine from selfish Earth women. He focussed on her bending body, her succulent mouth, eating him, then caught sight of her open cunt. If he had been any further away from orgasm he would have wanted to have his penis inside that hole, to feel union with the alien, but Urilt was watching. How could he fuck his wife. His excitement was too great. Nothing could hold him back now. He would come now, it was time. He no longer cared that Urilt was watching. The future was nothing at this moment, the present was everything. He wanted to splash in Braidt's face, to have her dog's tongue lap his seed, to imagine his hot cock deep in her alien vagina. He wanted Urilt to see him now, to see what he Chris really thought of his wife, to see the depth of his lust for the alien whore. Braidt's rhythm played on his cock as if it were his own hand. He panted as a hot column of his soul's juice erupted onto her tongue. She continued to wank him until he subsided while she withdrew her wetted tongue into her mouth, containing his seed. She swallowed, deliberately, so he could see the passage of his seed down her throat. Then her tongue was out again, collecting the rest of it from his still hardened penis, licking him until there could be no further trace of it. Still she cradled him and wiped him with her strange hands.
   For moments time was still, urgency left him and consciousness returned, but he felt the relief of lust satisfied, the rest of an end to that aching command. Then more rational consciousness returned in a flood of his returning normality. He knew that Urilt had just witnessed this most powerful scene, his most personal expression of himself, had been a part of his final moments. The knowledge of Urilt's observation had drove him to a wilder passion than otherwise, that desire to show one's inner self to the world, for honesty. He glanced over his shoulder to where he had seen his manager, minutes, or was it longer, before. Stony eyes, an expressionless alien face, impervious to human understanding stared back. Urilt had seen it all, and Chris could read no response at all. Was he to be fired, or worse would he be punished now in some physical response now that the crime had been fully committed. At this moment Urilt stood, turned his back and left the room, no sign at all of what judgement was to be made. Urilt's silence worried Chris more than any other response might have done, because it could not be read. Was there possibly approval? He did not think so. Surely Urilt would have smiled or said something comforting if he approved. Instead there was stony disinterest. Perhaps Urilt would go away to consider the sentence to be given. Perhaps there would be subtle punishments, at work or in the household, Chris knew not. He worried about it now.
     "You are wonderful," said Braidt, still massaging and licking at his skin. Now his erection had ceased, and he felt slow and drained, as well as frightened. No sign here of any concern at her husband's intrusion. That was reassuring. With the return of his ordinary consciousness came the earlier revulsion. No longer did Braidt's body appeal to him. It was too fleshy, its shape not quite human. The bare skull brought back childhood fears of brutal Indian savages wielding tomahawks, and threatening to scalp him. And the tongue was that of a snake, uncontrollable, dangerous. Only minutes before he had allowed this grey creature to draw up and swallow his own seed, now he wanted it off him, but he was conscious that he should not upset her. He knew she had been kind to him. Her lust for him had been genuine. It was just that his sexual passion, which had gradually come upon him, had completely evaporated. He must not upset this kind alien woman, but he felt he must never allow himself to be ensnared by her or any other alien woman again. At that moment he was aware of his humanity, and he could see that he was not the same as the aliens. He should have no business having any sexual play with these creatures. He could work for them, if Urilt would allow him now, but there must be no further sexual contact. He could be friends with them, but they were not the same people. He felt dirty and guilty for transcending the rules of nature. He was so glad that he had not succumbed to the unhealthy desire to implant his penis inside of this alien creature.
   She sensed his new reluctance, as she continued to massage and lick at his skin. "Have you done more than you wish? I will stop if you wish it. But I would like to hold you in my arms and explore you."
    "I am rather tired," admitted Chris, not wishing to offend. "That was an interesting experience, but your husband, he will not be pleased. He was here you know. He observed it at the end. I will probably lose my job. I had better get dressed." His heart was beating fast. He realised that he felt rising panic now that the calming influence of sexual passion was gone. His fear of Urilt's punishment was returning.
     Braidt betrayed no disappointment, but if her strong passion had been true, if she was anything like human, she must feel rejected by his coldness. "I will stop now," she said. "I can see that you have had enough. It would be wrong of me to impose myself." She took her hands off his body and wrapped her tongue back into her mouth. Quickly she reached her hands to the floor to steady her as she rose to stand. Chris could see that she was shaking, perhaps with the effort, or from being in positions on the floor for so long. Most probably the efforts she had put her body through had taken their toll, and she had worn herself out. Never had he experienced such vigorous sex and this alien woman had put body and soul into it, and that without any penetration of his penis. But there could be no doubt that she wished to remain in her sexual state, and if he had been willing would have continued their tryst.
     Unsteady on her broad alien legs she wobbled across the room to another floor mat. With distance between them she could talk. She sat again on the floor wiping the sweat from her face, dripping onto the floor. He thought briefly that she would reach for her discarded gown but she did not. Probably he felt she wished to remain naked for her own lusts were incompletely satisfied, and she wished to remain in some kind of semi sexual state. "You are fascinating Chris. I could drink you all of this night. I wish that you could feel the same way, but you have let yourself go for my pleasure and I thank you. I hope that you will serve me again in this way. I want you to know that you will always have a job with me." She bored me with her eyes, as she had been for the last hour and a half or more.
     Chris did not know what to say. What was expected from him now. She seemed unconcerned that they had been observed by her husband and by another female of the household. That unconcern put him at some ease. His distaste at what he had just performed alleviated a bit as he recovered from the act. She was not quite the monster he had felt in his immediate aftermath, another species but not a complete alien to his race. Still he wished to escape from this predicament, to go home and sleep alone amongst familiar things. He felt unclean, as if he had broken some natural law. He had no place here now, but was he contracted to stay here the full night? He longed to leave now, and face the question of whether he should return again to this house in the colder sanity of daylight. He did not wish to lose his office job, but if this job at the house entailed breaking the natural laws of his race and serving this lady of the house in such a way he could not continue. Perhaps he should tell her that he would only talk to her in the future, and could not come here if she expected him to prostitute himself to her. He felt used. Now he knew what female prostitutes must feel like. He had never really understood why some of them complained before about the way they earned their living. He was very conscious that he was in Urilt's house. Would he be allowed out after his crime? Would Braidt be angry with him if he tried to leave now? There was only one way to find out.
     "I feel strange," he said. "What you did was new to me, and I am not sure how I feel about it. Can I return home tonight? I feel drained. I will come again for the afternoon tomorrow as arranged."
     Her face was immobile, impervious. What was she thinking? He could never read these aliens. Was she going to reprimand him, or insist on fulfilment of his part of whatever contract he had allowed himself to be enmeshed in. Would she try to keep him here, talking about literature or culture, or would she be understanding and let him go. Her answer surprised him, "You are not the first human to be invited to spend an evening here Chris. Others have reacted in the same way after first lovemaking with an alien. What you may be feeling is quite normal. What I can say is that most of you come back for more, eventually if not immediately, although there are some who react badly to it. I do not think you will be one of those people. But we are not forceful people. Nothing you have done, or will do is without choice. The choice is completely yours. Go home tonight, and come back tomorrow. I will only make love to you again if you wish it. I will be glad to have your companionship without sex of any kind if that is what you wish. You are welcome here however you decide."
    "Thankyou for that assurance," he said, relieved. "I will return tomorrow." Drained of energy, he was at a loss for words. Normally he had been able to talk easily with Braidt, but now he only wished to escape from her company so that he could go somewhere on his own and think, or forget. He rose, still naked and crossed the room to his clothes, and started to dress. He was aware that this scene reminded him of any visit to a prostitute in a sauna parlour. At the end there remained only to get dressed and make a quick departure.