Jaspernon The Prince: The Rise of the Cult of the Goddess: Ch.3 : Part 3 Patience, the Concubine, and the King (Section 2)
Image: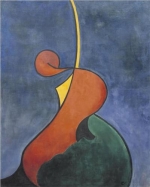 Tue, 03 Nov 2020
    Patience was all fired up by these pleasurable experiments and she began to see herself as a High Priestess whose duty and pleasure it should be to bring people together in sexual sharing. She believed it was the true way of the Goddess now, encouraging and enabling the people and the cult followers. However she accepted she had more to learn and experience, and to understand, before she could impart her newfound understanding to others.
    Eventually when Patience was ready and had become confident sexually, she agreed to Riala's idea that the High Priestess should commune with the King, who had wanted her since he first interviewed her, when she came to the Palace to ask him to sponsor and favour the work of the Cult. The King was a fine figure of a man, an athletic and capable warrior in his youth, who had fought in border skirmishes with Shallas, and had defeated rebellious nobles, intent on putting their own candidate upon the throne on one occasion. He had shown himself to be a strong and capable leader in the field and in diplomacy. He had been quite capable of giving mercy and encouraging peace, as well as punishment when necessary. In his middle age he remained tall and handsome, enjoying the company, and particularly the sexual company of many women at times. Many sought to become his concubines, like Riala, because he could provide wealth and a good life, but he did often pass his concubines around, as rewards to other courtiers, friends and servants.
   "Come Patience," pleaded Riala, "It is time you were given to the King! He wants you, you know. He wants you badly, particularly now that others have had you. He knows it is his turn, and I don't think you should disappoint him. He would not punish you if you said no, but I think you have shown you like to spread your favours, so there does seem to be an expectation. You have said you find him handsome. You do not have to become his concubine. It need only be once or maybe occasional, but let him taste you. Let him feel he has made a good investment in bringing you into the Palace and supporting your Cult so well."
   Patience felt a slight anger, that the King might view her presence here in the Palace as a mere sexual temptation, or as a presence which should one day be rewarded with her physical gratitude. She was not selling herself as the price for his support of her Cult. She had believed that was not a part of the bargain, Indeed she knew that was not a part of the bargain. She knew he admired her, he had shown it and said it in small ways many times, but he had never expected it nor demanded it. She realised Riala might be mocking her in jest, or perhaps that was the way Riala saw the arrangement. Patience should not be upset by what Riala said. The way Riala might interpret her mission here at the Palace and in the good works her Cult performed in the City was not likely to be the same way the Goddess saw it.
    As to the King's interest in her? It was actually mutual. Her sexual explorations so far had been guided by the Prince, but also by the Goddess, and by her own inclinations and desires. She realised she was now ready for the King, where she would not have been before. She had even spoken of the possibility of meeting the King, when in sexual communication with the Prince, a strange conversation to have with the son of the King, whose bed she most frequently shared. But he was used to sharing Riala with his father (never at the same time or in the same room). He contained no jealousy about sharing his new woman with his father. He wished her to be free to choose, and thought it entirely natural that his father should wish to explore such a beauty. It was clear the physical exploration of the High Priestess was in no way a part of the bargain for the Cult's current status in the Kingdom.
   She was ready for the King. Initially she had admired his tall handsome figure, but without ever thinking she would sample him. At that time she had not even conceived of enjoying a sexual life with anyone, not the Prince, let alone the King. Curiosity and confidence had built up inside her since then.
   "I have just come from him," declared the concubine. "I have his seed! Now he wants to put his seed in you too, quickly while the mood is upon us." Patience could see her sweat, and doubtless the sweat of the King upon her brow. She lowered her dress from her shoulder to reveal her moist breast. "Come Patience, now while his excitement is strong, and the mood remains. We will take him together. I will guide you. We will have him together." She grabbed the High Priestess by the arms and led her, down the stairs and along the corridor to the large room where the king's bed was. The King was on it, naked and covered in their sweat.
   "I have brought her sire. She is willing, very willing I would say. She is ready for you."
    "Patience," he called her by her true name, rather than by her title which he had always used before. "Come to me if you are willing. I have wanted you since I laid eyes upon you, for you are most beautiful. But there is no force in this. Only if you want to. Riala and I have spoken of this moment for a while now. Come let us begin." He was sat by now on the edge of his bed. "Come sit next to me."
   She sat where she was bid. His arms were around her feeling her sweet flesh. She felt the tingle of his touch. Riala sat at his other side and massaged his shoulders. His cock was large, larger than his son's, and it arose further as they touched. Riala bent down and placed it within her mouth, sucking it gently, while the King fingered Patience's breasts and explored her entrance. Tentatively she touched his back and stroked his muscled flesh. He offered his lips to hers. She, seeing what he offered, brought her face close to his and their lips met. The King's tongue invaded her mouth. She countered with her own tongue, allowing it to slip into his mouth. Passion took off.
   Her mouth was moistened with the tongue of the King as was his with her tongue. And then the concubine pulled their mouths apart, directing the High Priestess down, to take her place at the King's strong cock. "Taste his cock," Riala directed. Patience bent across his lap, grasping the impressive phallus with her left hand as she brought her lips down to it. "Please," exhorted the King, evidently very excited, while Patience drew it deep into her wet mouth, and sucked it gently. The King drew great pleasure watching the black haired beauty enveloping and tasting his stiffened cock, while Riala pressed her tongue inside his mouth and massaged his body.
   The ladies took it in turns to suck his cock, sharing it together sometimes as they had done with the son's cock not too many days before, occasionally kissing each other's mouths as they swopped his cock between them. The King groaned notably in excitement as he saw his wanton lovers taste and sample each other.
   Now it was time for fucking to begin, if they were to catch his seed before it burst. Riala mounted him while he still sat on the edge of the bed, impaled on top of him, while they held each other loosely, and then fucking him hard as her body rose and fell.
    Swiftly he changed horses, pulling Riala off him and enticing Patience to lie on the bed on her back. Taking in her beautiful white face and her luscious milk white breasts, he crawled over her, placing his large cock inside her, and began to take pleasure in fucking her. Her wet insides welcomed him, and quickly the pounding of his cock began to affect her. Riala slid her beautiful body on top of him, massaging him and licking everywhere. The King lost control, coming deep inside her, while Patience was able to achieve her first orgasm.
   The King lay back on his pillows to recover, and knowing that neither were finished in any way, he exhorted them to make love to each other, next to him and around him on the bed, while he watched. They licked each other's cunts in turn and then melded together, Riala's tongue inside Patience's cavern, while Patience licked at the concubine's pretty entrance. They fondled each other and as their pleasures arose they stuck fingers into each other to pull and to rub, and in this way they brought each other off, with strong moans and breathing from both. By now the King was massaging his own reawakened cock, but he waited until their mutual orgasms were complete before the King once again fucked the High Priestess from behind this time and brought her off again.