Time Travellers from the 1960's : Ch.12 : The End Of The Dream
Image: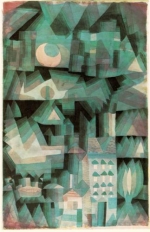 Tue, 17 Nov 2015
Ch.12 : The End Of The Dream
This modern new world angered her. It wasn't new at all. Its pretence at being new was largely a sham.
"You wanna know something Ted?" declared Louise.
"Yep, what?" asked Ted looking up from the computer screen he was playing with, having been shown how to play computer games and feeling it to be a wonderful, unlooked for toy of the future. He had never imagined that such developments would have been possible.
"I don't like this place too much," she said.
"Really?"
"Not at all. It doesn't feel like home," she said.
"But it's our city. The same one we left. They might have knocked a few buildings down, and the new ones might not always be as great as the old, but it looks the same to me. There's a few more automobiles on the road, and a lot of things have changed. But when the day breaks it feels the same."
"You know what's the worst Ted?"
"What?"
"The people are different. They don't think the world's getting better. And you know what's the absolute worst?"
"What?"
"A lot of them don't care."
"There were plenty of people like that in our day too," said Ted. "So nothin's changed. Don't get too wound up about it."
"Don't you agree with me at all, Ted?" asked Louise.
"Yeah. I do know what you mean, of course I do. I feel it too, but its probably not as bad as you're making it. Nobody could predict exactly what it was gonna be like. They've made great leaps forward in so many things, many things I never imagined. Like this computer and all the incredible things you can do with them. Amazing! None of us thought we could get all our predictions right. That was the challenge, to accept the future, however it may turn out. It was an adult gamble. We knew the score, and we accepted it. We've not done so bad. There's much to admire here. I'm sure we'll get used to it. We have to learn and to accept. That was the deal, and we have no choice in the matter. We have to accept it. We can't turn the clock back, can we. We have made some great friends. We have met and enjoyed other swingers. We have met plenty of like minded people. The ideas of our past are still fighting for this world. Progress is still being made; it just isn't as easy as we once thought"
"No we can't turn the clock back," said Louise. "But I'm beginning to wish we hadn't taken the gamble. I think I prefer the world we came from. We had more hope then and the fashions were cooler. We had more vision than these people seem to have. They seem to have given up on most of the things we wanted to bring about. They've let all the bad influences dominate their world, all the things we warned about in our time."
"I know what you feel, I feel it too," admitted Ted. "Sort of disappointment. But that's the challenge for us. Anyhow this is our world. If we'd have stayed in our time we'd have arrived in this world in our fifties. We'd be living this now, we would not have escaped it."
"I would have liked to have lived in the optimistic world for a bit longer, even if it did turn sour," said Louise.
"Look at it this way, honey. We've got a head start on where we would have been. Maybe some of the improvements we expected and hoped for are still on their way. Maybe we just got the timescales wrong. Maybe those changes are still in the future. There are good people here in this day, who are probably working towards rectification of the mistakes this generation have made. We're in the position now where we can help them. We can still guide the future. It's as if we came from our past and the present still contains the same old problems. Instead of living the nice comfortable life we wanted we find we've just gotta keep on struggling like before."
"That's such a good way of putting it Ted. I hadn't thought of it like that at all, but you're quite right. I do love you Ted."