Time Travellers from the 1960's : Ch.9 : Cheryl : Competing For Love
Image: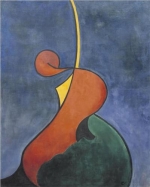 Thu, 11 Jun 2015
Chapter 9 : Cheryl : Competing For Love
Cheryl had previously asked Ted for his home address and wanted to be invited back, but Ted had always made excuses, and said the apartment was a bit small, or he would rather take her out. Instead Ted had become a regular visitor to her apartment. She had been getting curious about where he lived and his secrecy was making her suspicious. Cheryl, like most of her female friends, believed there could be no secrets between lovers. So, after repeated evasions, she managed to follow him back in a taxi after he dropped her off one night.
She sat outside his apartment block and observed people coming and going. She returned at another time, during daylight, to observe the place, this time from her own car across the avenue. She observed Ted's return from work, saw him pull up in the car and go into the apartment block. Observing from the car she saw him emerge at the window. As it was a warm day he opened the sliding window and emerged onto the small balcony. Combing his hand through his handsome head of hair, he leaned on the balcony gazing out towards the bay. A smaller figure, female, still in the prime of life, as she and Ted were, eased herself through the balcony window/door out onto the balcony, and placed her right arm around Ted's waist.
Cheryl screamed inside her head. It was as she had begun to suspect. Her lover had another woman, an imposter. How could this be? Was she his wife, or just another girlfriend? Cheryl felt slighted. Her lover had abused her trust, taken her for a ride. She felt anger towards Ted, but she did not know the facts yet. She knew she wanted the tall man. His masculine intelligence and his cool good looks enticed her. There were not many men she knew who did it for her in the way Ted did. She would find out more, and possibly she would fight for this man. He was probably worth it. Being a good looking woman by most people's estimation, and her own, she knew well she could have her pick of men. She had had a few in the past, and well understood her power over men, which made it all the more annoying that there was another woman in this man's life. She prided herself that she was a good judge of men, and she knew this one was kind, intelligent, charming and had many other qualities
"Hi Ted," she said as she opened the door of her apartment to him, "Won't you come in." She looked very beautiful indeed, in a tightfitting blue dress which showed off all her most delicious curves. The tidy flesh of her pretty arms, sculpted and muscular, and the unbroken smoothness of her upper chest, drew Ted's fascination instantly. "Sit down here darling, and what can I get you to drink?"
Ted sensed there was something a bit different in her demeanor towards him. She always did have charm, but this time she was laying it on thick, a bit too thickly, so he wondered what she could really be after. 'Probably just sex,' he told himself enthusiastically. Surely there need be no other reason. She was in a horny mood and merely wished to turn him on. If so it was certainly working.
She poured him a glass of her favourite wine and returned to sit right next to him on the sofa. She laid her arm around his shoulders, and leaning provocatively forward laid her other hand upon his leg. "You know Ted, I think we could be very good together." She smiled pleasantly as she said this, and Ted appreciated her beauty more than he had ever done. She seemed to know exactly how to arouse him, although they were by now no strangers to each other.
At first she had been naturally a bit shy, while they were getting to know each other. Despite her obvious beauty she had been uncertain of how he found her, probably because she wanted him and had cared about the outcome. They had got to know one another. She had encouraged Ted and let him make most of the moves, because she preferred it that way.
They soon descended into some of the best lovemaking he had ever enjoyed. Cheryl was so hot. She was so active and energized, all over his body. He responded in the only way he could, with reciprocal passion. Afterwards she served a delicious meal and they talked. Unfortunately for Ted there were matters she needed to discuss.
"If you want me you're gonna have to ditch that other woman I've seen you with. You can't have us both. Do you still want me?"
He hesitated, knowing what he should be saying to Cheryl, but unable to say it, because if he did that would be the end of his sexual adventures with her. The lust he had just felt, was still feeling, was strong. Right now, after such terrific lovemaking he could not contemplate losing Cheryl. He knew there could be no middle ground with this beautiful woman. Weakly he said, "Yeah, of course I want you." He meant that but he wanted Louise too. There was no way he could say what he should be saying to Cheryl.
"What's she called? How long have you been seeing her? Are you married?"
Ted appeared tongue tied. He did not want to reveal the truth, that he was married, that Louise was his true partner, and Cheryl could only be his lover.
"It's okay Ted," said Cheryl sensitively, giving his hesitation her own interpretation. "I don't need to know all that. I only need to know that you have chosen me. I know you want me. I can see it in you. The sex we've just had was fantastic, as good as I have ever had, and I would not be surprised if it was the best you've had. The way you came inside me, it was just so tender. You gave up your whole soul for me, as I did." And so he was able to leave his lover without giving Louise's name or describing any of the details of his relationship with Louise.
Later when he was back home in his own bed, with Louise sleeping soundly beside him, he continued to think about the restricted choices Cheryl gave him. Ted had had some great times with Cheryl, and he knew she had enjoyed them too. They had been to bed a few times. But now she knew about Louise it became clear she was making an ultimatum. If he wanted any more sex from her he would have to give Louise up. The sex had been wonderful because Cheryl was a fine looking woman of a type Ted really fancied. Her body was a fine classic, well shaped, slim but shapely, strong boned. Her skin was smooth and pleasantly tanned. Cheryl's facial features could only be described as classic, and he loved the blonde hair, the centre of many or most men's dreams.
However there was no way he would ever ditch Louise. She was his true companion and would be forever. They had come here to the future together and he needed her. Their sex was good and she still inspired him. He responded to her slim body naturally, despite the familiarity of their few years together. Where else would he get the kind of understanding sexual partnership, the open relationship they both needed. Both of them valued the freedom to run off with new partners from time to time, for variety's sake.
Ted rang the apartment bell. He had phoned earlier to announce his intention to visit her.
Cheryl opened the door, "This is a nice surprise!" she said. "I did not think you did Thursdays! Come in anyway. It's nice to see you. I have not cooked, but we can go out for a meal perhaps, if you like. Come in first!" Ted was well aware that Cheryl was beginning to trust him again, and was very enthusiastic about their relationship. She believed she had seen off all the competition and Ted was fully hers, although she had been pressuring him for a week or two to devote more time to her presence.
"I can't spend the whole evening. I'll just come in for a while. I have got something to say." He gestured his desire to come in and she encouraged him in, taking his arms. Ted saw the sudden uncertainty in her face.
Such requests to talk, but not to stay long could be the prelude to being spurned by a partner, although it might be nothing. Ted knew instinctively that she was aware of the possibility of what he was going to say to her. He could tell she cared for him and did not want to lose him. She was attuned to reading the signs people betrayed.
"Will you have a drink," offered Cheryl.
"Not just now. I have something to say to you."
"Oh dear. That sounds ominous. Sit down then and tell me!"
"You asked me to give up Louise."
"Right?"
"And I gave you the impression I would give her up," said Ted. "Well I can't!"
"Oh I see…. I am disappointed." She looked pained. Uncrossing her legs, she banged her hand down on the table. Leaning forward, her mock casualness gone, she looked primed. "You liked me well enough last night?"
"Of course I did. You're a gorgeous woman! I do love you, and you came onto me irresistibly."
"I thought I'd won you over. What did I do wrong?"
"You did nothing wrong. As a seductress you're fantastic. You've given me the best sex I've had in a long time. I am besotted with you! I don't want it to end between us. It's just that you can't accept my relationship with Louise. You don't know who she is, what our past is, why I have to be loyal to her. I need to explain it to you. If you were prepared to accept my relationship with Louise, and sometimes with other women, then you could still have me. But I know that's not what you want or would accept."
"You said you would not see Louise again," said Cheryl.
"I never said that directly. You put words in my mouth. I know I let you believe that. I did that because I wanted you and could not bear to stop your seduction. Last night was a wonderful experience for me."
"I thought you wanted me," said Cheryl. "So who is Louise? What is she to you? Why is it that you prefer her to me? I know you want me physically. That's obvious when we make love."
"Louise is my wife and partner."
Cheryl became more agitated. A scowl of disapproval crossed her face. "You are married? And you didn't tell me!" she almost shouted. "You have lied to me, and taken me for a ride."
"I am not lying now. Sorry Cheryl. I don't like to lie, but I wanted you so I had to. You see our marriage – me and Louise – is an open one. We allow each other the freedom to take other lovers. We both have complete freedom, to be with whoever we want, as long as we spend at least half our free time with each other. It works for both of us. We have lived like this for a few years."
Ted was reluctant to explain the full truth of their 'time travel' to Cheryl because he knew she wouldn't believe it.
Cheryl's brow creased even further, presumably in distaste. "You should have told me. Then I could have made my own decision, which would have been a definite 'no'! I don't do that sort of relationship. I am not sharing my man with another woman. And the thought of allowing you to go with any other woman whenever you want is impossible. How could you imagine I might find that acceptable?"
"I didn't," said Ted. "I knew very well you wouldn't accept such a relationship. That's why I didn't tell you. I was going to tell you yesterday, but when you produced such a lovely meal and looked so fabulous…. You were out to seduce me and I had to go along with it. What man could refuse?"
"I should have made sure there was no Louise first."
"You drew the conclusion you wanted to. I never lied directly," said Ted.
"You led me on!" snapped Cheryl angrily.
"I thought if you wanted me the experience would do you no harm. A short affair, an intense relationship is exciting. We have something natural and strong between us. It is physical, but we have much else in common. We had a good time. What harm was done. We enriched each other's lives. I will have good memories and so will you."
"Memories?" said Cheryl quietly. "That's not what I want. Who wants memories?"
"Why not?" said Ted. "Memories are better than no memories. Anyway it doesn't have to be memories between us. We could continue to have a relationship. Louise will not mind."
Cheryl was silent for moments, thinking of a response. Ted wondered whether, perhaps, she would begin to consider the kind of relationship he wanted. She looked at him with sharp eyes which seemed to have little forgiveness.
"Please! Just don't suggest that. What do you think I am? And what kind of woman is this Louise, to encourage you to sleep around with other women?
"I misjudged you. You're an attractive man, one of the best I've come across. And I have had a few good offers over the years. Some of them might have been appropriate for me if I had chosen them. Some of the ones I have chosen have proved disloyal, like you. What is wrong with you attractive men? Can't you settle down with one woman? Do you always have to be looking at other women? – But you're the worst! You seem to be proud of yourself for sleeping around and telling lies. You see women as a notch on the bedpost, and this open partnership with Louise as something to be praised. I do feel sorry for her. You must have led her to a lonely and frustrated life, these last few years."
"I'm not proud of upsetting you," explained Ted. "I hesitated in the beginning because I knew if I was to become close to you I must disguise the truth. Despite the pain I must have caused, I have surely given you both love and physical satisfaction. We have allowed nature to occur between us. If you chose, we could reconnect frequently. As for Louise, she has the same freedom I have enjoyed, and has made use of it as often as I have, I can tell you."