THE GRANVILLE PARKERS - CLIFF- MOVE IT!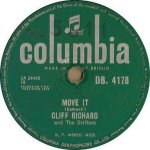 Thu, 15 Oct 2020
Recycled and Upcycled from my Blog in honour of Cliff's 80th Birthday 14th October 2020
62 years ago Cliff released his first hit single Move It!, on 29th August 1958.  It rose to number 2 in the charts, sadly pipped at the post by the Kalin Twins' rendition of an undeniably catchy little ditty 'When', which is still occasionally given air time, although their name has more or less been forgotten, whereas Cliff's fame and popularity appears to be evergreen, just like his personage.
I was eight years old when the record was released, and my sister and myself managed to pool our pocket money and sneak out to purchase said 45 r.p.m. record, no mean feat as we lived in Lewisham, in SE London, not the most savoury of places.  I will gloss over the retribution heaped upon our young heads when discovered, not the least because we did not possess a record player. 
To my dear Dad's great credit, within a few days he had purchased a second hand 3-speed player and clothed it in a beautiful highly polished wooden case, made by his own very skilful carpenter's hand. A couple of big old 78 r.p.m. records came with the player, I still possess them to this day.  They were by another now almost forgotten name (except possibly by other possessors of their recordings), Troise and his Banjoliers.  Not quite the music we were hoping for, but gratefully received and played a couple of times after of course we had listened to Move It! And the B side – Schoolboy Crush – about a thousand times. I still have it stored in the beautiful polished wood record case Dad made to go with the deck.
Thus began what was to be a lifetime relationship between Cliff and us.
We were fortunate enough to have a 'flea pit' at the bottom of Granville Park, the venerable old REX cinema, in a building I wish I had taken more notice of in my youth, now knowing it used to be a theatre/music hall called 'The Kings Rooms'.  So my forays into the string of films which followed Cliff's musical successes mostly took place there. If not there, the old Gaumont, later the Odeon, a magnificent large theatre/cinema further into Lewisham, now sadly a pile of rubble.
Cliff's first films were 'Expresso Bongo' and 'Serious Charge' released in 1959 and 'The Young Ones' in 1961 which I was not taken to see at the time, but later caught up with when old enough to go to the pictures with my mates, as his films tended to be repeated.  The most notable in my life was 'Summer Holiday', released in 1963, which me and sis were allowed to go to with a group of friends from our flats.  Somehow I don't think we were supposed to go there and stay all day. (You could arrive any time at the flicks in those days, and just stay as long as you like).  Halfway through the second viewing a notice appeared on the screen inviting me and my sister in no uncertain terms to get our arses out of there and get home.  We were in big trouble.  Not having a phone, Mum had trolled down to the Rex and got the manager to communicate with us.  Grounded for ever after that.  But I did get the LP as a gift from my old mate, and I still have it to this day.
He did get me into trouble again (Cliff that is not the old mate) once or twice, I remember being about 15, watching his TV show and my friends arriving afterwards. I opened the door to them and we all jumped up and down screaming very loudly, causing my parents to almost have a heart attack with shock. That was a BIG telling off from my gentle Dad!
We saw all Cliffs' films of course, eventually, and bought many of his records, though six and threepence was a lot of money to youngsters for a single in those days.  I have of course acquired most of his work since adulthood, boot fairs and charity shops having arrived on the scene.
My first actual Cliff concert happened in 1964 when I was 14.  One of our mate's Mums worked as a cleaner at the Gaumont (later the Odeon) Lewisham and managed to get us a couple of free tickets. Oh wonder, Oh Bliss.  A group of us young teens took our places fairly near the front of a packed house.  We screamed our bloody heads off.  We ran down the front waving and crying, until the ever-gentlemanly Cliff beseeched us all to return to our seats so everyone could see. As he still does today.  Some of us were bodily carried back by bouncers, but no-one was chucked out.  Pretty much the same thing happens still, although many of us fans are well into our 60s-70s-80s and over, we still make the effort.
1966 saw me and my friends at Earls Court for the Billy Graham rally which Cliff was appearing at. So handsome and earnest in his Hank style specs. He was responsible I suspect for many young women turning to the Christian faith which he still adheres to. Bless him.
So the years have rolled on. With my sister, old friends and new remaining faithful to the great man. It gets harder to get into town for the big concerts as we get older, but still we make the effort and have long lost count of the number of concerts we've been to over the years. And I don't even want to think of how much of our hard earned we've spent on concerts, with decent seats at the Royal Albert Hall now running at over a ton.  But its all been worth it.
These last few years however have been lamentable. On top of the witch hunt initiated for reasons of their own by the reprehensible South Yorkshire Police in cahoots with the BBC (remember in previous years the BBC took Cliff off their playlists as being not popular enough, and he released a song under the name of 'The Black Knight' – which the BBC played many times until the true identity of the singer was revealed -then it was immediately blacklisted?), Cliff has endured the deaths of several close friends (including Cilla Black), as well as his young niece, and his beloved sister. But he seems to have come good, although sadly the stress has added years to his hitherto youthful features, Hopefully the support he has had from millions of faithful fans from all over the world has seen him through. In fact my long-Cliff-suffering spouse even, for the first time ever, accompanied me to a Cliff concert one October as his personal display of support. Mind you, I don't think he'll come again, he was a bit shell shocked at the antics of some ladies of a certain age. I did warn him.
Anyway, in spite of Cliffs' accusers occasionally putting their heads above the parapet occasionally even now, I hope this whole awful period, with the millions of fans world continuing to support the great man, will soon be drawn to a just conclusion, and that in 2021, we will at last be able to scream in person at his postponed Birthday concerts :  'Happy Birthday Cliff!'.