JUST AN ANT.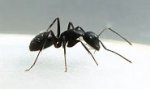 Sat, 10 Sep 2016
I wish I was a butterfly
Fluttering prettily, ever so high;
Or even a buzzy bee, furry and funny
Collecting the nectar for sweet golden honey.
Even the ladybirds have much more fun
Eating the greenfly, and enjoying the sun.
But I'm just an ant, and I work hard all day
Building a nest, clearing old leaves away.
And nobody likes me, except for my brother -
And that's just because a big fly ate our Mother.
They all want to eat us, even the dog
And don't talk to me about that fat old frog!
But don't you folks worry, I'll just carry on
And you'll soon forget me after I've gone.
But in the meantime, one thing must be said -
When you're in the garden, please watch where you tread.