SARAHS TALE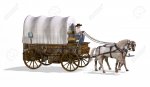 Mon, 10 Apr 2017
Going to uncle Vic's funeral
I feel a familiar pain
I take off my shoe, my big toe is blue
'Oh no' I shout , 'not gout again!'
My man stops the car at the side of the road
And I step out to see how it feels
But I let out a cry, with a tear in my eye -
'I really cannot wear these heels!'
But lucky for me there was in the boot
A new pair of trainers, but when
I try them both on - my joy is soon gone -
Right's four, but the left one is ten!
Hubby says 'we'd best go, it's a long way you know'
So though hurting and heavy of heart
I come and sit down with a sigh and a frown -
But the old car refuses to start.
And as we sit there waiting for the AA
An old horse- drawn waggon comes by
Like prospectors of old who went searching for gold
Yee-hah! Is the Waggoner's cry.
But hold on a sec - I stand up to check
And I see a young girl wave to me
This really is odd but I don't give a sod -
It's a young friend from Croydon, you see!
'What are you doing here?' said Sarah 'it's queer!
I'm moving to Pompey because
There's no jobs in Surrey, just aggro and worry
So I've  swapped cars for waggon and horse'!
She lent me some shoes, so with nothing to lose
And enjoying the trees and the flowers
We accepted a lift but the horse was not swift
And we missed Uncle's wake by two hours.
The slow pace of the cart was good for the heart
And what with the wonderful weather
We went all the way and decided to stay
In Portsmouth with Sarah forever.