THE SCREAM (poetry Monthly)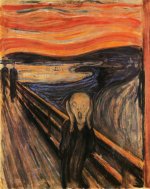 Fri, 17 Jun 2016
Why has the sky turned an ugly blood red?
Wind whirling and swirling round the pain in my head?
And I open my mouth but can't utter a cry
As hither and thither the deadly darts fly
All poisoned with hatred and envy and greed
As the pedlars of death watch humanity bleed.
I stand on the bridge over rivers of sorrow
And hope it's a dream and I'll wake up tomorrow;
But they've come for me now so I know I'm not dreaming –
And they'll drag me away, still silently screaming.