Stripling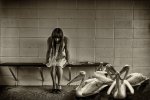 Fri, 08 Feb 2019
I've never met you.
But I want you to love me.
You were me before I had formed 
my open church door of mouth
my stripling heartstring. 
I had forgotten the sensation of growing teeth
such an empty life
to be full of desire
and drained of hope.
Tell me you love me
that you almost know my name
and I'll forgive you anything.
Malinche,
I hear my words in another's mouth and tut
like lightbulbs,
the first things you forget to replace.
I'd never felt loved
until the warm blanket of your eyes in the rearview
worried and cared.
Then again
what wouldn't I say
for an inch of your flesh?
I wonder
are you yet to learn 
all your father taught you about being a man
was abuse.
Image: http://tinyurl.com/ycst6esc