Andrea Camilleri, R.I.P.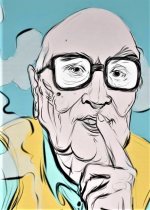 Sun, 21 Jul 2019
I would like to talk of Andrea Camilleri
of whose demise I was recently told.
An Italian author who wrote many novels,
he died last week, ninety-three years old.
More Simenon than Mickey Spillane,
he wrote about a Sicilian chief of police,
a down to earth but fractious detective,
by the name of Salvo Montalbano,
who solves crimes by his understanding
of the criminal psychological weakness
because he himself has many failings.
The voluptuous and sexy women
he interviews, tempt his resolve.
Feels remorse because he neglects
the faithful long-distance girlfriend.
Though he has many crimes to solve
which he pursues with a great zeal
he finds time to enjoy a good meal.
With this human and fallible hero
Camilleri didn't write for the elite
but to please the public at large;
"If I write a novel, I hope to have
the biggest number of readers".
That was his basic philosophy.
About his longevity he declared
"If you can keep your brain functioning,
old age doesn't exist. On the contrary,
it's a richness," Being an octogenarian
myself, I entirely concur with this view.
© Luigi Pagano 2019
This file is licensed under the Creative Commons Attribution-Share Alike 4.0 International license. Attribution: Serena Stelitano - 12/10/16