The Labor Day Ghost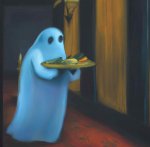 Thu, 14 Sep 2023
Here's a one-off short story I wrote from the prompt: "What was meant to be a great bonding vacation turns sour when an uninvited guest tags along."
---
Mae looked out at the setting sun and savored the hint of salt rolling in from the ocean. How long had it been since she had a moment to herself? Danny was asleep in a chair, tired from a long day at the beach. The boy didn't often find happiness, but when he did, he clung to it with a ferocity that made the rest of life worth living. Mae lay back, soft satin sheets sending a deep wave of calm through her exhausted body. There was something magical about hotel sheets. Was she about to fall asleep at five o'clock? It had certainly been a while.
            A scream, piercing, shrill, and almost certainly that of an older woman.
            Mae sat bolt upright, eyes immediately flicking left toward Danny; of course, the boy was wide awake. One didn't live in a house like theirs without becoming a light sleeper. She turned toward the wooden trunk containing their clothes. Old-fashioned, but it had been free, and free was king.
"Did you chalk the suitcase?" asked Danny.
            Mae twitched. "Course I did."
            He was already up and walking over toward the trunk. Fourteen-year-olds, they never believed their parents.
            I'm sure I chalked the suitcase.
            A scream, this time closer, followed by the crashing of a serving tray in the hallway.
            Danny popped open a small compartment on the side of the suitcase, revealing a long tube that ran in a line around the bottom edge. It was filled with powdered chalk. "Well, that's a relief."
            Mae was not so relieved. She walked toward the suitcase and bent low, noticing the tiniest break in the white powder.  She pointed to it.
            Danny knelt closer. "Hell."
            "Don't curse, Danny." Hell.
            "BEGONE FOUL SPECTOR!" shouted someone from the hallway.
            "Well, that's just rude," said Mae. "You have your father's things?"
            "Always." Danny hustled to his own bag and pulled out a battered black hat and smoking pipe.
            Looking at the pipe, Mae felt a tinge of resentment. The very thing that had killed him, the very thing that had left them alone, and yet, they needed it more than ever. She kicked the trunk, jostling the chalk line until it was again unbroken. "You up for this?"
            Danny looked tired, more tired than most teenagers. "Do we have a choice?"
            Mae wanted to cry at that. Poor kid had to grow up so fast. "There's always a choice."
            "LEAVE ME BE, DEMON," yelled the voice from the hallway.
            "So dramatic," muttered Danny.
            "Agreed. Let's take care of it, and then maybe we'll go out for an ice cream."
            Danny seemed on the verge of telling her that fourteen-year-olds didn't want to go for an ice cream with their mom, but he stopped and nodded.
            "Right." May pulled a wax candle and a silver pentacle from her pocket and moved toward the door. She took a deep breath and opened it.
            A cart full of silver serving trays flew by, rattling down the hallway, followed closely by a blue-green glow that cackled as it went. "Oooooooh!" it shouted. "I have come to haunt you for your siiiiinns!"
            Mae looked at Danny. "It's him."
            "It's kind of funny."
            "Your dad always thought he was kind of funny." Most of the time, he had been. Mae stepped into the hallway. "Alright Greg, you know the deal!"
            A hotel assistant in a prim suit next to her yelped.
            Mae looked down at the poor young woman, shaking on the floor. "Don't worry, he's harmless."
            "B-b-but, my sins."
            Mae let out a long breath. "I'm sure they're tame by comparison."
            The specter charged down the hallway, cart careening in front of it. At such speed, it was impossible to discern the full form, but there weren't many families that accidentally brought poltergeists on vacation. Mae double checked the hotel before booking it, new construction, no old bones beneath it, they were safe. If there was a ghost, there was one way it had gotten there.
            "Danny, you know what to do."
            Danny nodded, a grin on his face despite it all. He held his father's items tight and spoke in a low tone.
            Mae smiled, the boy wanted to see his father, whatever the form. She took off running.
            The serving tray ran into the end of the hallway where it hit an ornate painting of a horse before spraying its contents of soup and bread all over the walls. The blue shape behind it gave a hearty laugh, more joyous than scary. With each word from Danny, it grew more solid in shape, looking closer to the man it had once been.  
             "GREG!" roared Mae.
            The specter turned to face her and Danny. "Mae?" it asked, voice shimmery and ethereal.
            Mae stopped fifteen feet away. "Yes, Greg. We've talked about this."
            The ghost moaned and looked at the wreck in the hallway. "Oh dear. I just wanted to get out of the house. How much damage did I do?"
            Mae softened. "More psychological than physical."
            Greg looked at the serving tray scattered on the floor, and then past Mae to his son. "Danny, you brought my things, did you?"
            Danny stepped forward. "Always."
            "Greg, you know the deal." 
            "Right, back in the box."
            "Back in the box."
            "I'm sorry about this. Let me buy you all an ice cream for your trouble." Greg reached a hand down. Ghosts often forgot themselves. "Right, well, your mother should buy it."
            Mae smiled. "Ready dear?"
            Greg slumped. "Alright then."
            Mae pulled out the pentacle, said a few words, and lit the candle.
            "See you at home, dad," said Danny.
            "See you soon." All at once, Greg's spirit flickered, sputtered, and disappeared with the candle flame.
            The pentacle in Mae's hand was freezing cold. "Right, let's put him back and take a walk before they ask too many questions."
            "A walk to ice cream," corrected Danny.
            "Right." He was a good kid. "A walk to ice cream."