Leggings - Double Spin.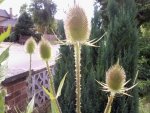 Sat, 23 Jul 2016
Leggings - Double Spin.
23.30....
The devils back!  exclaimed Kitty over the wire.
Really, I said nervously, how come?
There's a family of people trying to hit on me again.
Don't listen to them, stop now.  Listen the other way...
Trying...
Is anything else going on?
Oh....
A door slams, feet scurry past.
A man whispers to a woman.  A box changes hands.  I won't tell her... he says. You have it.   As long as she don't know me, if my Mum finds out she'll kill me...
I'm being double-whammied! Kitty says finally.  There's been a drop off, either upstairs or close by...
Possibly every night, I tell her firmly.  That's why they were getting at you.  So you never knew who was up to what.
This GANT business.  Kitty went on.  Is it to do with that Duke who came here?  Was he in on all that?  Or was he directing the church on things...
Oh I don't think so.  He shakes my hand at church. That means he wasn't at war with me anyway...  I was reluctant to blame the boy.
I keep on trying to put it together differently.  I mean what if he was told I was a Hitler. Which is what was kept going by the families when I was growing up...
the real ones out of trouble... if they were thought innocent...  Kitty says.
It could have been.  I said.  I think perhaps he too was hoodwinked!  
Kitty nodded.  Most folk were up in Yorkshire too.  How can they tell one child from another?  I wonder who got it tonight?
Possibly Sargent Riley, and her Mum the wart fairy!  I'm a Stewart... and I have no warts...  
Oh the std gang in town.  Over in Dereham where they've been sleeping round for years, there's hardly anyone without a wart.  Kitty starts to sing it out.  Amused.  or tired of life. whichever.
Or so they say...
Unless they've come to Mattishall. Kitty enthuses.
To pinch things...   as if its legit.  I nod.
They seem to think the bible says so... she goes on.
Oh hang on! I say quickly, I think its more horrible than that.  
Its as if the Churches are at melt down.  Or in danger of closing the doors - Kitty replies.
Yes.  I wondered that.  Faith being what it is, interested people will find their way to God no matter what.  Yet at the very end, the Churches might retract to save their own souls.
Crumbs!  We are being deep!
I think think-say brings that on.  
If it was the one from Scotland, then why?
The most important question.  That!  What was he protecting?