Leggings - the final shout?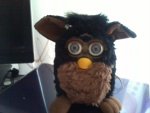 Sun, 03 Apr 2016
Past 4a.m and the morning is braw.  I awake from dreams so powerful and strange, that I  know that I'm not in a dream.  I'm at the mercy of a game player.  The game is survival in an icy cavern with the danger coming from the trackers, and zombies.  Apparently they make the game more fun.  The man playing the game shows up as a shadow - holding the gamebox he plays with, with two hands.  He is tall, stooped shape.  In the real world, he is seated in a car outside the building.  I wake up to shouting.  There is another man and he's shouting about it being the last time...  "They'll come, its the last time. Then they'll give up..."  A soothsayer perhaps.
The game player tells him, "Shut up!  Get into the car."
There is a shuffling, and then the car starts up, and drives away.
It's a Romany/Scots game, only its almost impossible to tell which are which down here in Norfolk.  The game recipients sit outside the building and wait.  Someone turns up to give them something.  They say its for someone else, and torment like mad! Its always early morning.  Some say its to do with the churches...   speculation. I wonder sometimes if its more about drugs...
Not being a Romany, nor a McDonald, I won't join in.  It's somewhat undignified to sit outside a building all night, to await a benefactor of some kind...
The fracturing of Bessini goes on and on, now we have another claimant for my name.  Its the woman who begs around bus stops...    and teaches lessons in aggressive, effective begging techniques in near by Norwich.  I'm told in the Norwich shops... In the past her family went to America, with help from Mr. Lee from Scarborough.  They I believe might be the ones they call the Salem witch group.  For a few weeks she attended secondary school in the town.
Oh!  Isn't life fun.  Suddenly I'm surrounded by the old secret service people...!
Indeed!
Another car drives up.  A woman runs out of a nearby dwelling.  "Go away," she hisses, "She's up anyway.  There'll be'll another story if we don't watch out!"
"Oh okay!" shouts a feral female voice and the car takes off...
its six in the morning...   and the birds are talking....