Leggings - of Horrible People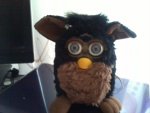 Sat, 11 Jun 2016
Overheard, news of the will...
The horrible family back from putting the dreadful fish into the sea to eat the children of their neighbours – are apparently boasting that they took it. Apparently they are related to the boy that I took to meet G'ahams the evangelists, many years ago from the children's home. He took my kind words as evidence of relationship – which did not really exist in order to pinch anything I might have been entitled too... I'm not sure if this is correct or not. Horrible people. I was so glad they didn't want to take me in.
I had to go there in order to keep my word to the Queen as it was a matter of Scottish clans feuds.
Her grandfather – well she's got dementia! Ghastly police people. Which is why these dreadfuls took to trying out electric guns in the house next to my bungalow to shoot me in the head!
Only in Norfolk I hope could someone's will be stolen so.  Let me know if it isn't.
I should have been given the choice firstly whether to agree their entrance into this country as agreed in the court, or I should have been given the choice to go somewhere else with my family on their entrance to this country. Then they could have sacked the Queen whose money it is... as they may.
Horrible people. I can't find enough words that sum up my contempt for them.