Leggings - Psychic capers... Notes.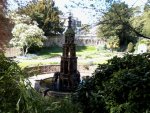 Sun, 19 Jun 2016
Through the week the happenings went on happening, Brown Owl, and her mates wore a seat pattern on the bench outside as they awaited any parcels, or deliveries to come...   the worst incident when some young man admitted to stealing a will for his Mother.  I was in the shower, and he'd gone by the time I'd dressed...
  At the weekend the action became energised and in the end, I stayed awake until about 3.am.  This kept them a little quieter as they awaited any thing/one to come over.  The boy I left with Eve & Billy G came around, apparently he took the furniture out of Clarence House, etc, and some of it was mine.  I recognised some of it. He offered to bring it around.  Now its just a means of tormentation.  However the good people of Watton, aren't amused, and are voting to stay out of the shop.
I fell asleep on the sofa, exhausted, when I became aware of a voice gently talking to me.  I think it was James, a rather sorry young man, who is expecting things to finish really soon.  "Hang on," he said, "Its nearly over.  I know it is."
I asked him who he was.  He wouldn't or couldn't tell me.  I was awake by now.  I kept trying for information.  He said he'd nearly finished too.  He had a SD too, and it wasn't going to be long.  I almost felt sorry for him.  then I remembered who he was, I'd seen him striding over the Burtons place at the start of all this.  Dark man.  Dark clothes.  Then out in the shops with Dullcie, hanging back, listening, tacturn.  Judging.  Does nearly over mean they have got everything they can?
All of a sudden the Ring Master came into things, loudly,  "He's dead so he can't look after you now," he bellowed at me.  "So I'm going to look after you in a little while for good!"   It was a threat.
I ignored him totally.
James got up.   He'd been kneeling by the plant pots outside my window.  "Stop!" he said, "I was getting her to listen."
"She won't be able to do anything soon!" yelled the Ring Master roughly.  
James tried talking gently to me again.  I smiled.  "You're a psychartiast aren't you? The one thats in love with Lorna Doone?"
"Not precisely." James returned grimly. I could tell I'd upset him.  I knew the other one, interested in poetry of a sort, and older.
"We'll get her put away," said the Ring Master laughing loudly.  He did everything vocal loudly.  "She doesn't know us anyway."
"Do you know us?" asked James.
"Yes, I know of him.  He's not nice.  Same proffesion.  Not smart.  Dreadful daughter! The Banshee!"
The voices of women in the background of the psychic plane came through.  Cautious.  Not the mad, bad ones.  They like the house I advertised on twitter.
So do I....  too large to clean however.
Early evening the clan gathered again, apparently they hope to eat me soon.  I pointed out I was poisenious, however they seem to want to chance things.  The one that tried to eat me before many years ago, has informed them that I made him sick for days...  so he won't be joining in.
Some shouting later, the Ring Master was apparently bringing  someone around to try and talk to me, I'm not certain if the person's life is over if they can't.
Or whether they are trying to entice me out there to finish me off.  Or both.  The last is more plausible.  They make large claims about who it is...   
They try out vicious rumors so that I won't be able to take people as they are....  It's exhausting.  More death threats follow.  They are getting desparate.  Now they say they are firemen, and that they love it pre-cooked.  They have a woman with them louder than most...  she defines all of that as filling my legs with drugs - I point out they won't stretch...  It's getting silly.  I'm tired.
There appears to have been a delivery, may be here, may have been elsewhere, voices are very loud.  I'm not sure of what...  The others are trying to conceal what is going on outside.  Now its getting quieter, and I'm going to bed!  There has been more - you can imagine the rest...