Leggings - Stormont Castle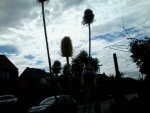 Fri, 19 Aug 2016
So Garlic.
The mid-day Swan was oozing Leprechauns out of the windows. Little straight backed men, in jolly blue jeans with exceptionally white beards were wagging rumours and funny stories, over the beer glasses with a glazed look in their eyes. After ten minutes they hoisted the oldest one out of the door to screams of merry laughter. He picked out a smart phone from his t shirt pocket and started an argument with someone invisible, whilst standing on one leg, and jiggling.
It was fascinating, I could have watched him all day. Only someone yanked him back in with his trouser braces, and he was gone from view. Dynamite.
"Gone for his dose of Garlic, I expect!" summed up one of the village stalwarts, coming up behind me, "It's a weird racial thing I suspect. They are always chewing it. Or talking in it. They do podcasts in Garlic with Ma Maggot on the pirate radio."
"Are they the remains of the crew of the Caroline?" I asked idly.
"That?" she went on, as she turned the corner into the Doctor's car-park.  "I don't think so though, they are kind of … unreal. They have you pegged as a real trouble-maker. Along with being smelly, and they are dogging your footsteps and warning employers..."
That made weird sense. "I wondered who that was!" I felt better about it, then. I knew someone was doing it. I'd never put it down to Leprechauns though!
"They say they do, because you never ask for the right place and they want to go home!"
"Ireland?"
"Not sure," she returned darkly, "Could be? Do you own property over there?"
"Hey!" I shouted back towards the Leprechauns, "Can I have Stormont Castle back please?" I knew Mr. Lee had arranged for it to be used for the Northern Ireland parliament, yet I was sure I could have an apartment there, and use of the gardens....
A rude answer came back at once, "You can't have that one! What about the government of Northern Ireland."
"We can share it!  I'll have  a bit, and they can have a bit." I said firmly, "And you always say you want to go home..."
"There won't be a Swan!" came gloomily from inside the pub.
"I know we said we did," said the old Leprechaun slowly, he was having trouble thinking it out.
"So I know we said we did, only now... Well we've been here a long time."
I could see his difficulty.
"Stop calling us Leprechauns!" he went on, "I mean people are picking that up. And going on about our jolly blue jeans, and the whiteness of our beards... Its so unfair. You knowing. And we're much taller than the usual Leprechauns!"
I went on home. They were becoming the stalwarts of the village slowly. They were becoming villagers. They were marrying in.
From behind me came a voice, a bit more garlic than Leprechaun, "It won't work. He said firmly, "They won't want you back. I mean it was all about a lack of writers before at the end, only now..."
"I'm pleased to say we've quite a few good ones.."
"Yes," he went on, "I've no jurisdiction here, mind you. Only they only ever write about two books before disappearing... So what is going on?"
"And I thought you was after the pot of gold!" I replied. I had begun to wonder about him.