Stories of East Sussex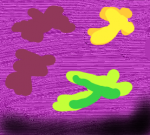 Fri, 20 Jan 2023
Long ago, when I was a child, there were two sets of people living in the Crowborough area of East Sussex who were very different to the normal human.  Firstly, there were the Vampires, who were very old, and laid themselves on the branches of the trees in the forest to rest, when they wandered too far from their graves.  Secondly there are the Crow families, who, came from somewhere else, and after a time of change, both in attitude and action, became large black crows.
The Vampires were rather nice, and talked to me sometimes, yet now, they only line the tree branches sometimes, and are quiet otherwise.  If there is trouble in Crowborough, you can check one of the Frances Frith pictures, to see their forms in the long grass close to their graveyard.
The Crow people once they became the bird form, often worked in the schools of my childhood, large, black cavernous creatures, well educated and smart, who held your attention in class, and checked out who was clever and who was edible. I was at school with Philip (His Dark Materials) and I thnk he might have used the Crows in his stories, in their half form, as Harpies.  They didn't want to eat him, they were after my friend Terry who was short and fat at the time!
You see:  without a doubt, with the full form comes the hunger of the crow family, which ends in half inches, and an eye or two now and then.  If any of the locals says to you, "I want my half inch, which you owe me!   I suggest you disappear quickly forever.  It doesn't help to re-appear tomorrow, because they will still hunger for that half inch.
Fifty – Sixty years ago the Crow birds went from Crowborough all at once, they are tales that they were put to death in the fields for their hunger, and their crimes of cruelty.  They had no feeling for the human anymore, for their own humanity had gone and left no link back.  Some went out to boarding schools, where the children were in a captive environment, without parental support and could be examined for lack of brains.  The Crows birds, often female had high expectations, and didn't support those who were normal, or less.  Then due to large numbers of child deaths, or disappearances in boarding schools, people came to find out where these unfortunate children were and found bones under the buildings.  Within weeks, of that, the Crow birds, left the country for good.  I think the last one I saw was perhaps 1948.
This year in Crowborough the town is playing host to a mobile population of people who float along taking flats here and there, living loosely amongst the population, which is what I feel that I do, really.  Amongst us, are people who eerily will ask the question, where is my half inch?  I don't feel that we can say, the Crows are all gone from Crowborough, because I know that they are here again.
I wonder how long this species takes to develop into the full form.  Then I wonder what will we do, when it does?   How will we survive if we must compete for life itself on this beautiful and endangered planet?