Trees
Image: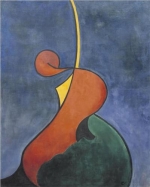 Wed, 04 May 2022
Trees
The trees stand at the edge of the garden fenced off from the Nature reserve.
Tall thin red branched trees, slowly turning to brown.  The spring sun warms the fire.
The buds swell with the sudden life, the surge of new life.  The squirrels haven't woken yet,
So, I sit by the window, and admire the view.  A snapshot, this empty garden.  Nothing stirs.
Thoughts run across the branches like electric currents, the tightness of the sinews lengthens 
In the cold, the stretch of new growth, begun.  Spring is more than crocus, or snowdrops –
It is the life, the explocion of growth, the moment of desire – the founding…
Time has passed, like a bleached spirit, taken leave, I can only watch. 
(c) Rosalind J. Lee (also published on Medium with a few changes..)