La Speranza Bay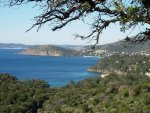 Sat, 29 Oct 2016
The strange thing is, you don't know I'm dead. It happened only an hour or two ago and no one's found me yet. It's rather sad to look down and see myself floating in the turquoise waters of La Speranza Bay. I haven't got used to it yet.
Just now a fisherman in a boat decorated with eyes that Picasso could have painted came puttering by. I held my breath in anticipation. Would he drag me on board to lie splayed on the tangled nets and tar-spattered cork floats? His dark furrowed face turned towards my body for a split second. He obviously noticed I wasn't just another mass of tangled weed. But then he quickly yanked the tiller over and chugged on his way into the white fire of the pre-midday sun.
I'm bobbing up and down in the boat's feathery wake, the sun sending shooting stars of light up from the mother-of-pearl buttons on my new Dolce & Gabana shirt. Then, as I watch from above in growing shame, the ripples start working my long flowery skirt up around my waist to show - oh horror! - that I'm not wearing any underwear.
I'd gone out for an early morning sail round the bay. I pulled on what I'd been wearing the night before, the first and, as it now seems, last night you and I... Oh, I didn't want to die! The boom of your stupid dinghy knocked me not only unconscious but overboard as well.
And now as I look back at the coast I see you getting out of your Alfa Spider and scrunching up the gravel drive, talking to Chapman on the phone. I know you're talking to Chapman because he's the only one you call 'friend'. "Sure, friend. That's OK, friend." Oh, I'd love to hear what he's saying to you. You're laughing a lot and making those little gestures with your head on one side that you know make you look appealing. I never thought you'd do that if no one was looking though.
I can hear the three long sticks of french bread getting crushed under your arm. And now you're picking up the cotton shoulder bag that holds two velvety-black bottles surrounded by light green leafy things. Would that be celery? When I met Chapman I only knew potatoes and peas, neither of which I'd have recognized in their natural state. Strange how you can graduate from microwaved junk to gourmet goodies in one short step. Chapman only began what I can now sadly call my short-lived flirtation with sophistication. It was you who…
Warm gusts of air are wafting me towards your door. I'm right over your head now and I'm following you inside. Straight to the kitchen table with last night's crumbs spilling onto the floor.
The house phone rings in the living room as you drop the bread into the bread crock. Oh, I'm so glad I'll be around when you hear about my death. You'll be on the phone to Chapman again immediately.
You run to the phone so fast I can't keep up with you. As you run past the staircase you call my name and look up the stairs. Yesterday afternoon, mussed and ruffled, I descended those stairs into your arms. Chapman had gone by then. We were alone.  But it's only Amelia on the phone. You tell her to call later, saying that I'm still asleep.
I still haven't really figured out how I move about up here. I just get wafted around like some sort of meteorological phenomenon. I'm thinking about Chapman and how he had an appointment with some nut who wanted to charter the Caravel and keep it in La Speranza, with Chapman looking after it. Chapman was going to name his price. Knowing him, it would be high. Crack the nut, he said.
I'm hovering over the phone now waiting for it to ring again and I don't see Chapman until he's right behind you. Oh, god! It's all happening so quickly! As you're bending to put the wine on the stone floor Chapman picks up the monkey wrench and crashes it down on your head. You fall on your side, your skull smashed open and blood pumping over the terracotta tiles.
Chapman throws down the wrench and walks over to the phone. He picks it up right next to my leg and punches in a number. When the other party answers he merely says: 'First her, now him. You get out of line and it's you too.' Who's he talking to? And does 'First her' refer to me? Did Chapman tamper with the boom? Did he kill me? And now you?
Just as Chapman puts down the phone I look across the room and see you hovering over your body. You look across at me in surprise. And then you grin, move your head in that silly fashion, and hold out your arms. But I can't seem to move from here.