Banal Desires- Part Two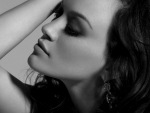 Wed, 04 Dec 2013
She was easily there, easily present, but the moment he touched her skin he knew she was damaged. He could sense it in every pore, feel it in every hair.  Usually they were minors, those who knew what they should and what they shouldn't do but those who had never done.  Here was a woman who knew nothing but had done it all.  And walked out scarred.  He wondered who it had been.  Her father, perhaps, maybe a brother... husband... 
What made him any better?
When he bent his head close to her neck, the smell of roses became overpowering.  He felt as if she had upended a bottle of attar on his head.  He shook his head but it wouldn't go away.  Reeling, he inhaled deeply.  
"Something wrong?" she whispered, speaking for the first time.  
"Wrong?"  he said, fighting to remain polite, even as the sickening stench invaded his system, "your roses are killing me."  He shook his head again.  "I can't get hard like this."
The hint of a smile played around her lips like puppet strings.  "I don't pay you by erection."
*
Roses.  Fire.  Roses.  Fire.
It was a strange association.  Unlikely, even.  He wondered whether he would ever be able to smell them the same way again.  He didn't have to glance at her to determine that she was asleep; the steady rise and fall of her breathing told him that she was.  She was beautiful with her clothes off, but he found the thought coming to him disguised; he was not attracted to her.  On the contrary, he felt a sense of protectiveness, as if she were a sister another had disrobed and violated, and had now been placed in his care.  
He disgusted himself.
Usually he would not think about what he had done.  Ever.  It was simply something he did, like washing his hands or eating a meal.  He did not enjoy the act, nor despise it.  Often, he found himself being likened by his subconscious to some description of wild animal; engaging in coitus for the purpose of natural selection as opposed to physical pleasure.
Inhumane.  Then again, humanity only carried meaning in context.  And he had spent his entire life out of it.