Love Shapes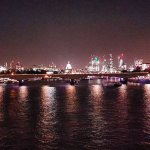 Sun, 07 Jan 2018
I met a man with tattoos in a pub who told me that love is shaped like an English poppy. I laughed in his face. 
"A poppy? What kind of idiot are you?"
He had crossed the five-pint threshold about two hours earlier and wasn't in the mood for jokes at his own expense. "You come in here, into my local, and try to embarrass me in front of my mates?"
"You embarrass yourself." 
The people he referred to as his mates seemed confused and edged away. 
"Love," I yelled, "love is not shaped like an English poppy."
"Oh, really?" he replied, sliding off his stool to square up to me. 
"Love," I declared, "is shaped like a pear."
He didn't like that one little bit. I felt his frustration in the form of his fist smashing into my nose. 
***
I would go from job to job, town to town, preaching my radical views to the doubters and haters. I was used to rejection, ridicule, and beatings that left me dazed and bloodied in accident and emergency. The thing is, each person had their own preference, point of view and definition when it came to love shapes. One person might say poppy, while someone else would say mushroom cloud. 
Barry, the store manager of a supermarket in Romford where I worked for six months, was adamant that love was shaped like a bunch of grapes. "It's all interconnected, 'innit?" he said, over a morning cup of tea.   
The wildest theory I ever heard – if you could call it a theory – was from a Scottish girl named Mary, who I sat next to in a tele sales job near Bristol. She was convinced that love was shaped like a potato waffle. "How could it be anything else?" she said. 
"That's absurd," I replied. 
"Why?"
"For one, it's not even a fruit."
"So what?"
"It has to be a fruit, obviously."  
"I think love's more stem vegetable than fruit," she said all matter of fact, popping gum. 
***
I was at an all-time low. Struggling for work. Doing my best to pay overpriced rent for single rooms with bad plumbing and fungus for wallpaper. I admit I would find myself pondering the pros and cons of cliff tops, train tracks and pills. 
Come the evening, I would force myself to preach in pubs to the unconverted. I soon wound up back in A&E after another run-in with an ignoramus drunkard. It turned out this douchebag did have mates, quite a few of them, and I found myself curled in a ball on the street as they kicked seven shades out of me. 
A nurse briefly assessed my wounds. She told me to give my details at the reception desk. After that, I sat on a fixed plastic chair, waiting for stitches in my crown. Opposite me, two policemen sat either side of a burglar in handcuffs. He had hurt his ankle jumping from a second floor balcony. 
"It's not like in the movies, eh?" he kept saying to no-one in particular. 
A girl took the seat next to mine. She had long black hair and dark brown skin. "Why can't you smoke in hospitals?" she complained. "Of all the places, it's where smoking should be allowed." 
The moment she sat down, I had this intuitive sense that something life-changing was underway. I stared at a vending machine, trying to process the thunderous emotions inside of me. 
"H-e-l-l-o," she said, waving her hand in front of my eyes. "Is anybody home?"
"What?" I replied. 
She pinched out a cigarette from a new pack of ten and then rummaged through her large handbag. "There you are," she said, talking to a plastic lighter. She then turned to me and said, "You want one?"
"I don't smoke."
"Typical… I bet you don't know what shape love is either?"   
"Actually, it's the one thing I know with absolute certainty."
"Tell me."  
"It's a pear."    
She paused and we looked at one another. "That's right," she said.
I nodded. 
Standing up, she said, "If they call, come and get me." 
"But I don't know your name."
"Tara." 
She walked off. 
"Tara what?"
"Chadha," she said, sticking the cigarette in her mouth.  
"Don't light that in here," ordered a man on reception with a military boom.
I watched her saunter outside. 
She trusted me to watch over her handbag. 
***
Tara and I got together. She curbed my demons and for around 18 months I was in heaven. I stopped going into pubs to orate to random strangers. I managed to stay in the same job and discovered the benefits of keeping my opinions to myself. In the Life Graph of Happiness (LGH), I was at my peak. 
We had a one-bedroom flat with a small patio where we grew tomatoes, strawberries and herbs in the summer. We took in a stray cat, which had half a tail, and named him Ferdinand. Every Saturday we would go to the farmer's market and buy delicious pears. We placed the pears in a hand-painted ceramic bowl on a round wooden table by the patio doors. 
Tara had a regular job in the haberdashery section of a department store and I was climbing the ranks of a local supermarket, having gone from trolley pusher, to night warehouseman, to day warehouseman. 
I was making it. 
My goal was to move into grocery, where I could live my dream of replenishing the fruit aisle. 
***
The problem with happiness is that it never lasts. 
Tara and I were lying in bed one night.  "Stop kissing me," she yelled.  
"Why? What's going on?" 
"I'm tired of your constant kissing and fondling… You're all hands and fingers… It creeps me out." 
"You find me creepy?"
She swung out of bed to light a cigarette. 
"You're supposed to smoke outside," I said, seeing the unhappiness on Tara's face.  
She leaned against the wall by the window and opened the curtain a fraction, letting in a beam of moonlight. Ferdinand stretched in his cat bed by the chest of drawers and then fell back to sleep.  
"What's going on?" I asked.
She stood there in her thong, opening the window to tap off the ash. 
 "Please," I said, "I want to help."
"No you don't."
"But I do."
"You only think of yourself."
"That's not true."
"It is… You just can't see it yet – selfishness creates blindspots."
"How am I selfish?"
She gave a tiny shake of the head. In a whisper, she said, "Everything revolves around you."
"Why would you say that?" I replied. 
"Because it's true."
I felt that we could overcome any obstacle in our relationship, provided the two of us agreed on the sanctity of the pear. 
"Tara," I said. 
"Urgh, stop putting on the voice… You know I can't stand it."
(In arguments, she often accused me of putting on a patronising, teacher-like voice). 
"What shape is love?"
She sucked on the cigarette. 
Again, I asked. 
"I'm sleeping on the sofa," she stated, grabbing her pillows. "Come on, Ferdy," she added, making kiss-kiss sounds. "Come with mummy."
Ferdinand did as she said. It was like the cat had taken sides. 
***
I was groggy from a rough night's sleep and failed to realise she had packed as many clothes as she could. I assumed she had gone to work early.
Besides, I was late for my shift and in a hurry. My priority was to shower, dress and to have a strong cup of tea. 
I tried to call and message her from the supermarket. There was no response on her phone. I mean, it went straight to voicemail. I began to seriously worry about what she had said and felt a wooziness in my stomach. I told Russell, the Day Warehouse Manager, I was unwell and had to knock-off early.
The cat greeted me at the door. Tara was absent. I went into the bedroom and the penny dropped that she must have taken her belongings when I had finally fallen asleep the night before. Her make-up was missing, along with her collection of African statues, healing crystals, various types of incense and asthma pumps. 
I stepped into the lounge. I had a premonition of what to expect and sure enough, on the table, I saw the pears had vanished. Instead, there was a single nasty apple in the bowl. 
There was a note for me. It read simply: 
In my heart, I was never entirely sure I agreed with you about love shapes. It turned out I WAS deluding myself. At last I can see what I think I believed from the outset: LOVE IS THE SHAPE OF A COOKING APPLE. I am sorry for the hurt caused. 
Thanks for the memories. 
Take care of Ferdy. 
Xxx
TC 
***
Lunchtimes in the staff cafeteria were entirely predictable. I knew what was coming. Blokes could not stop themselves from talking about love. 
For nearly two years, I had kept my counsel in my supermarket job and did not express a single opinion. Success in the workplace is about keeping your mouth shut. If someone asked me if they thought it was going to rain, I'd shrug meekly and say, "I've no idea."
It's why I had climbed the ranks. 
I was served my food and then deliberately went and sat with the big cheeses. The ones who were suited and booted and thought they had all the answers. It was Tony, the Night Warehouse Manager, and Russell, my direct boss. They were already deep in conversation. 
Tony said, "When I was growing up, my mother told me that love comes in all shapes and sizes, but I was never 100 percent sure. How could that be the case, you know, when you stop and think about it? And then I met my missus and she explained that love had to be an organic, free-range egg. And it's true. You can't argue with her logic."
"An egg?" roared Russell. "Do me a favour… What a load of bollox…. Never heard anything like it… My wife told me love was a rose when I met her and I told her she was an idiot… I was having none of it: love is a ripe pineapple and that's the truth. My old man said the same and his old man before him. I won't stand for any bollox from any of you either," he said, making eye contact with the other people at the table.
He then jabbed a fork clogged with buttery mash potato in my direction. "You never say a word on this… What do you think?" 
"Me?"
"Yeah, you," he said, licking the fork. 
I inhaled deeply. Pushing back my chair to stand, I raised my plate, with its steak and kidney pie, peas and chips, and grabbed the attention of my assembled co-workers by smashing it on the floor. "Each of you talk about love," I said, "you say it is one thing, then another, and you can never come to an agreement. Every day you argue about it, making point and counterpoint. It causes you sleepless nights, anxiety, depression – it makes you drink, buy drugs and turns you to violence. 
"Some of you in this room will take your own lives because of your inability to find common ground. I say this to you, and I will only say it only once because it is a scientific fact: love is shaped like a pear." 
There was silence. From the pocket of my boiler suit, I produced a pear. I held it up above my head like a trophy and turned 360 degrees, allowing everyone in the room to see. 
"This is love," I said. 
There were boos and swearing.
Food was thrown at me… Pandemonium was to be expected… This was the fate of a pariah, a heretic, an away supporter who had strayed into the terraces for home fans, singing rebel songs of glory.  
I lost consciousness when either Russell or Tony gave me an uppercut to the chin. 
I was thrown onto the forecourt by security, never to realise my dream of becoming master of the grocery aisle. 
***
It was a shame to say goodbye to the flat and the patio with its tomatoes, strawberries and herbs. As a single man, I could not afford the accommodation by myself. 
I resumed wandering the country, trying to scrape a living in towns and villages. I avoided cities for the usual reasons. 
Preaching to the unconverted is a thankless task, but it's my calling, so what can I do?  
Still, there was no denying my LGH had dipped considerably since Tara departed. At least I have Ferdinand to keep me company. We had a long chat, mainly about his disloyalty on the night Tara and I broke up. It was difficult and painful for both of us. 
I finally decided to forgive him as he seems genuinely sorry.  
If only Tara could see us now and how well the two of us are doing – Ferdinand is glued to me, he never leaves my side. 
I know one day she will come to her senses and realise what a mistake she made.
Nobody ever found true love in the shape of an apple.