Love has no boundaries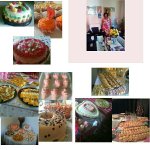 Tue, 27 Aug 2019
As with all beautiful journey's , this one grew from a little seed which was planted . Margaret Simons is one of those formidable woman who's dream started from humble beginnings , she never anticipated that through her father's occupation she'd also begin a journey of her own.
She met the owner whom inspired her to follow her dream, through her baking and cooking. She was so inspired by this woman that she offered to be of some assistance , just so she could feed her curiosity whilst learning at the same time.
She moved with them to Kraaifontein for a year , but due to circumstances she came back to Caledon.
Her mentor was no longer there to guide her , but she kept her dream alive by finishing a course in order to advance her abilities , by doing that she's now able to create an income from home.
It's a career and experience she gained for over eight years, starting from Bergsig , she became a wellknown figure over the years catering for functions such as 21sts , Christenings, Weddings and one would think she would stop there no. Her love for her community is certainly something we could all adhere to.When she's not busy with functions , she caters for her community with love expecting nothing in return and she makes sure that they are aware of it.
Her community lies close to her heart and she makes it a point at identifying their needs and ensuring that their needs are met.
As with any business it's not without obstacles , such as financial support working on a deposit basis can be tiring at times.Her advice for someone who'd like to start something similar is to begin small and to never lose hope.
She's living her dream which she was fortunate enough to turn into a business, she's still allows herself to dream A bigger kitchen will come in handy also to be able to advance herself in her field .
Still hope remains an integral part of her daily routine , hoping that at some stage there'll be government programs where people will be able to support themselves financially in their communities in careers that not only benefit them but also their communities irrespective of our daily cultural differences which can be easily deterred into nothing.