An Ill Wind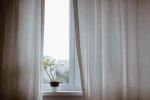 Sat, 20 Jun 2020
2 likes
It was an ill wind that blew us indoors,
interrupted, as spring turned to summer.
The season blooms through slow-motion downpours,
panic-buying and uncertain futures.
The last time I held you on that moorland,
set to walk out of my life, into yours.
Lay on sandwort's star-shaped moss, unbuttoned
brown seeds loosened from capsules, released spores.
Now, drumming my fingers as rain babbles
on the straightjacket of these four closed walls,
two children and husband mix their quarrels,
from bird-twittering dawns until night falls.
I soothe the ache to leave right now, cloistered
in laundry and cooking, censored, shattered.