Brain Hemorrhage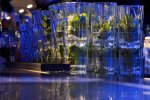 Wed, 07 Jul 2021
As I sat on the last bus home at 4am I started to regret downing that last brain haemorrhage cocktail as if it was water. It looked like a brain in a glass, but the baileys, peach schnapps an grenadine were absolutely delicious together. To say I was drunk was an understatement. It was my first proper night out since the birth of my son Tadhg. Yes, at the start of the night I felt guilty for leaving my four-month-old baby with my husband, but a night out was overdue. I had expressed enough milk to feed three babies for days before leaving as I was anticipating a hangover.
I don't actually remember much of the night, but I vaguely remember getting on the bus home with my best friend Pippa. She had promised as we embarked on our journey to town that she would make sure I got home to my boys safely. However, the bumpy pot holed roads, and the abundance of drink, made me vomit. The bus driver pulled in at the door of a hotel and kindly asked me to leave.
I fell as I stepped off the bus as the world was spinning. Pippa, who slept through all of this was oblivious that I had gotten off. The driver helped me to the front door of the hotel and shook his head disapprovingly as he returned to his relatively full vehicle.
The walk to the hotel was sobering as the cold icy air hit my face. The fresh powdery snow crunched under my boots. There happened to be a receptionist in the lobby which I thought was unusual because of the time it was. I was aware that I wasn't making any sense but tried to anyway. I started to wretch as the receptionist ran for bin for me to vomit into so as not to get any on their fresh-looking marble tiles. He then held my hair back and flinched as I vomited until I had nothing left to express.
The receptionist, Dave, then insisted that I stay the night. I thought him to be creepy and took his recommendation as an advance. I strongly refused the offer, but Dave led me to a room anyway. I tried to fight him but I was so drunk I couldn't even give him my full name.
He sat me down on the luxurious queen-sized bed, the leopard print wallpaper on the opposite wall made me dizzy and queasy again. Dave saw the blood drain from my face and ran for the bin under the dressing table. I vomited once again. I noticed Dave had taken my crossed body handbag off me and started to riffle through it. I tried to stop him but I couldn't tell which Dave was real, as I was seeing three of him. I reached out towards the one on the right but my hand ended up in dead air.
Dave had taken my purse out of my bag and found my credit card. He said something to me but I couldn't make it out. My eyes started to droop and I was swaying from side to side. Dave urged me to lie down. I was petrified he was going to rape me when he took off my wet boots and swung my legs onto the bed. I tried to resist but couldn't keep my eyes open. He placed the bin beside where my head lay and turned me onto my side in case I vomited again.
I awoke the next morning with a piercing headache that made the slightest of sounds revibrate in my brain. I heard a hoover in the distance and tried to push it away by waving my hand aimlessly in the air. I started to realise I wasn't in my own bed as my eyes focused on the leopard print wallpaper that made me sick the night before. My stomach turned.
I tried to sit up, my head banging as if it were at a heavy metal concert. I got up off the bed and realised that I was lactating through my bra, two round wet spots on my top. That made me realise that I couldn't hear Tadhg crying. I hurried to the bathroom, swaying sideways as I went and once again, I vomited, pride at the fact I had made it to a toilet.
I looked in the mirror as I washed my mouth out with some water. My eyeliner and mascara made two stripes vertically down my face, my nose in the middle. I grabbed the toilet paper and tried to rectify the situation by taking all my make up off. After taking away the eye makeup I flopped my hand indicating that what I had done was enough.
Feeling a bit more normal, my head still banging, I went through my bag and noticed my credit card was missing. My breasts starting to hurt because they were so full of milk, urged me to somehow make my way to the lobby and ask them to ring my husband as my phone had run out of battery. The receptionist was very obliging. My husband on the other hand, was furious at me when I spoke to him. I expressed my sincere apologies but I think they fell on deaf ears.
I was handed my credit card and a copy of the bill as my raspy voice got off the phone. I looked at the total for the nights stay; €450. My jaw dropped to the floor; my stomach felt like a weight had been dropped in it. I put in my pin code and asked where I actually was to be able to calculate how much time I had before I needed to start grovelling at the feet of my lovely husband, who was on his way to collect me.
I realised I was only twenty minutes from home and decided to sit in the warm lobby over standing in the freezing snow. The first thing I heard was not my husband, but my baby. I could tell that Tadhg had apparently had as bad a night as I had when I saw the bags under my husbands' eyes. 'He's been like this since you left!' he said handing me the baby, whose cries cut through my head like a machete.
The journey home was unpleasant, Tadhg finally settling as I goo'd and gaa'd at him, my husband calming down the closer home we got. I apologised for not making it home, and then he surprised me by apologising for how he reacted to the news that I was in a very expensive hotel. He explained I had frightened him and that he was worried sick. I apologised for that too.
As we pulled into the driveway, all three of us finally calm and the air clear, I decided that I'm not able for nights like that anymore, that all I needed was here in this car; my family.