Enough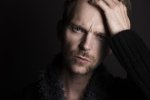 Wed, 07 Jul 2021
As I reclined on the black leather chair, dozing, reading James Patterson's new novel in the front room, the alien sound of the letter box clunked shut making me jump. I call the sound alien as the postman always used the black, rusty, post box affixed to the red bricked exterior of the house. I rubbed the stubble on my chin, put the recliner into the upright position, placing my book carefully on the scuffed armrest and got up curiously to investigate what made the letter box clunk.
I opened the door to the hall and noticed that there was an off-white square envelope on the colourful welcome mat that was in the shape of a butterfly. I picked up the envelope and brought it into the kitchen, my brow furrowed as the intrigue grew inside of me. I rested my elbows on the white granite topped island and opened it.
Inside was a piece of A4 paper that was folded tightly. I was shocked at the message inside. There were massive, computer printed words covering the page, reading:
7 o clock,
Tait's Clock,
Come alone!
Alarmed at the brusque wording of the note, I ran to the door, my heart beating in my ears. I pulled the white PVC door open and ran to the end of the driveway to see if I could find who had interrupted my Saturday. Unfortunately, I couldn't see anyone but the neighbourhood kids playing football on the heavily wooded street.
Frustration building, I went back into the house and slammed the door shut behind me, the mirror on the wall shook. Like a demon I grabbed my phone from the pocket of my jeans and called my best, and oldest friend, Marian. She was so taken aback by the story that she rushed over, living only five minutes down the road.
As Marian let herself in, I had my face in my hands, unsure what to make of the summons. Marian assured me that it couldn't be anything too bad as it wasn't asking for money. She suggested that it could be a guy with a secret crush on me and that we should just go with it and see if anyone shows up. She made it clear that she was going to go with me and hide nearby.
At a quarter to seven, I stood like a fool at Tait's Clock, its square concrete base allowed me to stand in the shade of the basking sun and rest my back against the tall gothic clock. I stood facing Marian, who was trying to be inconspicuous in the entrance of Fitzpatrick's casino, which was on opposite Saint Saviours church. I had my EarPods in with Marian on the line. She was trying to keep me calm as the minutes passed.
I nervously walked around the edge of the clock base, looking to see if there was anything out of the ordinary happening. I noticed that there was a building being refurbished to the right of the church but other than that there was just the normal amount of traffic on the one-way street.
When I thought of the person who sent the bizarre note, I automatically thought of a perverted serial killer who liked to play mind games. I read a lot of thriller and horror books and was convinced something similar was happening. Had I not had my sidekick in my ear, I would have probably bottled it and rang the Gardai.
I walked around the pedestrianised square around the clock and touched each of the silver-coloured bollards that surrounded it. 'Keep calm' the voice in my ear urged. Marian was also starting to get restless and wandered as far as the bike stand outside the casino, a map of Limerick as her rouse.
My phone started to chirp, a sound that meant it was seven o clock. My stomach felt like a weight had been dropped in it. My eyes darted from person to person as the bile from my gut reached my throat. After three minutes passed, I was ready to throw in the towel and go home. Marian insisted we wait until ten minutes past.
My phone chirped again, this time in the form of a phone call from an unknown number. I decided to be brave and hung up on Marian to answer it. 'I told you to come alone!' an old familiar voice in my ear said angrily. 'I can see you brought your beard' they said. 'Paul?' I said, my eyes as wide as saucers sprang towards anyone with a phone to their ear. 'You shouldn't be wearing jeans in this weather!' the spiteful voice chastised, 'tut, tut, tut!' it added. I had goosebumps on my bare arms and was finding it difficult to breath with my black, surgical mask on. I was immediately transported back to my school days where I was severely bullied because of my sexuality by Paul, who I thought was in Canada.
Still searching, I could feel the heat prickling on the back of my neck. I had forgotten to put sun screen on, preoccupied by fear. 'Nervous, are we?' Paul asked maliciously, to which I answered; 'you're a monster who needs to be put down!' angrily. Something came over me, maybe it was the heat, maybe it was the anticipation building up from not knowing Paul was back in town, but I found myself screaming at the top of my lungs, 'show yourself you bastard!' my eyes closed and arms rigid against my body as I said it.
Goosebumps now covered my entire body as I could hear my screams bounce back in my ears which confirmed that he was here, the bastard who is pestering me was actually watching me. 'Now, now' the voice in my ear said calmly and hung up.
I gestured for Marian, who was staring at me open mouthed, to come and join me on the pedestrianised square and filled her in on what the creepy perverted voice said. We decided to go back to mine and have a Chinese and some wine. Marian insisting, she sleep at mine.
We were going back and forth questioning ourselves as to whether Paul was behind the stupid, childish prank, that ruined my weekend.
I remembered how Paul used to grill me about my sexual orientation. I had gone to school with Paul, he bullied me all the way up through secondary school, teasing me about being gay. The alarming thing was that, even though his family lived four houses down, I didn't know he was in the country.
After a satisfying Chinese and half a bottle of wine, I rang Pauls mother, the wine obviously bringing Dutch courage. I asked if he was there. She was vague in her answering so I pushed her harder. 'Is Paul home!' I asked rather aggressively. Louise, his mother, sighed down the phone and asked me to hold for a minute. I pointed to the phone with my wine glass in my hand and opened my eyes widely, informing Marian that he might just be down the road. I removed the phone from my ear and put it on loud speaker, letting Marian hear exactly what I was hearing.
There was rustling on the phone before a voice said brusquely, 'what!' It was Paul. I gulped down the rest of the wine from my glass and point blank asked him if he was responsible for my turbulent evening. He laughed an evil laugh and said, 'why Nancy, you have trouble at the clock tonight?' Both Marian and myself let off the couch abruptly, almost knocking the wine. It was him; it was definitely Paul who had sent the note.
I threw on a pair of shoes and ran four houses down the heavily wooded street and started to bang furiously on the red wooden door, Marian following suit. No wonder I couldn't see anything when I came outside after receiving the note; Paul lived on my estate. Eventually, Paul answered the door, a sinister smile pasted on his face.
Immediately I was transported back to school where I was timid and shy because of Paul and his gang. He was the reason I had moved to Cork to go to do my degree. It took a lot of therapy to get myself back on track after Paul had left my life. I had only moved back to Dublin when I finished college because I had heard from Marian that he had emigrated.
I simply asked 'why?' to which he just shrugged his shoulders, a stupid, childish grin spanning from ear to ear. I was about to hit him but Marian held me back. 'You still have your beard then!' he gestured towards Marian, who suddenly let me go wanting to hit him herself. She was as sensitive as I was about my sexuality.
I finally had the chance to stand up to my childhood bully, 'yes, I am gay!' I blurted out, 'but you seem to be the only one with an issue here Paul!' I stated. His smile lessened. He wasn't getting the same reaction he used to get when we were in school and was getting visibly frustrated. I smiled and told him to go and have a mass said for himself, something my late father used to say. His smile vanishing, I indicated to Marian that we should get back to the house.
Once back inside I looked at Marian, we both burst into a victory dance. For the first time in my life, I stood up to my childhood bully and was proud to be me.
picture from pixabay