The Forbidden Kiss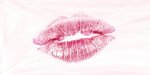 Fri, 13 May 2022
Here is some flash fiction. Picture from pixabay.
It was a kiss that would have been forbidden long ago. Penelope caught Sinead by surprise as their lips met. She was reminded of a dew kissed blade of grass on a spring morning, moist yet strong. When they finally parted, Penelope's tongue couldn't help but taste Sinead's the cherry flavour lip balm. She opened her eyes and saw the shock in Sinead's face, she was blushing and didn't know where to look. The onlookers of the hall who had stopped dead to watch the inevitable connection applauded, and there was a wolf whistle from one of the popular kids. Even though it was such a big step for a sixteen-year-old, Penelope, who was the shy one of the two, she had finally bit the bullet. She bowed her head, her cheeks bright red like a tomato.
The pair had been spending so much time studying together lately, but she felt ashamed as her advance didn't get the welcome she was hoping for from Sinead. Just as she began to walk away, Sinead's hand reached out and pulled her back. They embraced once more, only stopping as the crowd parted to make way for the principle. She was a stern woman, and a nun at that. She ordered the two girls to her office and the onlooking students to class just as the bell sounded indicating break time was over. Penelope couldn't help but smile as she locked eyes with Sinead.
They walked hand in hand towards the principal's office. Once they arrived at the sad, lonely waiting room, they saw two chairs two meters apart. They dropped their bags with a thud and pushed the chairs together. Penelope tried to act nonchalantly but the butterflies in her stomach were fluttering wildly. She closed her eyes trying to savour the past ten minutes when she felt Sinead's hand inch closer to hers. Their fingers interlocked and she looked at the girl of her dreams, the pair of them with grins on their faces like Cheshire cats after accomplishing the forbidden kiss.