No More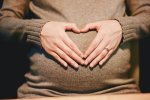 Thu, 08 Jul 2021
Some Flash Fiction (under 400 words)
Picture from Pixabay.
As the family of four made short bread cookies, Dave saw Kathy rub her ever expanding belly, which meant their third child was kicking and abruptly held his floury fingers in the air and simply said; 'I can't do this!' as he ran upstairs. After the cookies were put in the oven, Kathy waddled up after him, shocked to find an almost full suitcase on their bed. 
'Where are you going to go?' Kathy asked him alarmed at the unexpected upheaval, but Dave refused to talk to her or even acknowledge her existence. He pushed by her to gain access to the en suite, silence revibrated through the air. 'Are you going to talk to me?' she asked with tears in her eyes. Dave looked at her as if she was invisible and continued to pack. Kathy proceeded to take things that were already in the case out, unwilling to entertain the idea of him leaving. 
Eventually he exploded, and shouted, 'you knew I never wanted more kids!' as he gesticulated towards her stomach, tears streamed down her face. She seemed to remember that she wasn't the only one there when their unborn baby was conceived. Once again, he held up his hands and hurried out of the room. Kathy sat on the end of the bed and cried; her body jerked as she heard the front door slam shut. She wiped away the tears with the back of her hand as she heard the timer, which indicated that the cookies were ready, chirp from the kitchen. 
She hurried down to make sure Santa wouldn't have burnt shortbread and warned her kids not to touch the hot biscuits as if nothing had happened. Eight-year-old Sinead was the first to ask 'where's dad?' Kathy looked into the sweet innocent face of her daughter, contemplating whether to be truthful and ruin her Christmas, or lie. In the end she decided the former option was the kindest and answered that he was on a mission for Santa as she fought back the tears. 
The baby kicked again, which tugged on Kathy's heart strings, as it was a physical reminder as to how she had lost her husband. Guilt stricken she rubbed her stomach and promised the unborn child that they were better off without a dad who would desert his family on Christmas Eve.