The Storm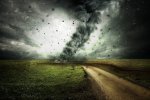 Fri, 11 Mar 2022
As the rain pelted against the window, I listened to the wind roar. The sycamore sapling outside the sitting room window was almost bent at a ninety-degree angle. I hugged my mug of coffee, relieved that we arrived at Dublin airport before the disastrous weather, but wasn't ready for the storm that was brewing in my family home.
My husband, Brandon, had already hit the hay. It was a big day for him as it was the first time he had met my mother. I couldn't blame him for going to bed early….at least he had jetlag as an excuse to escape the endless berating. I, on the other hand, had fire in my belly to confront the woman and plead with her to give him a chance.
'Hello dear,' my mother said from the doorframe making me jump and almost spill my coffee. I turned around slowly, my eyes quickly passing the many portraits of happy faces that were my family. I saw a frail old woman in the stead of my mother. Yes, she sounded the same, but she was hunched over and had lost a substantial amount of weight. Her veins were more pronounced, her skin looser, and her overall colour had changed. This was not the mother I had left five years ago when I emigrated. How could such a strong, independent woman have deteriorated so much in a relatively short amount of time?
'Hi mom,' I smiled. She entered the room, her feet shuffling on the green carpet, and sat on the couch. She patted the seat beside her indicating that she wanted me to sit. Naturally, I obliged.
'Is Brendan asleep?' she asked sheepishly, like she was just an innocent old woman. An old woman with a serpent tongue, I thought.
'It's Brandon mom!'
'Oh I dunno,' she flung her hands in the air, 'classic Americans, always producing obscure names….' I rolled my eyes. '…...Brendan, Brandon…...what's the difference?'
'The difference is his name is Brandon!' I said through gritted teeth as one hand reached for the grey cushion beside me and squeezed it like a stress ball. I was tired and didn't have the energy for an argument, but I could see she had other intentions. I placed my coffee on the table in front of me and sat back into the old leather couch hugging the cushion. My mother immediately moved my cup. 'Why can't you use a coaster?' she asked, her serpent tongue getting some airing. 'I'm sorry!' I apologised as I watched her place the mug on yesterday's newspaper, and take out the tissue from her sleeve to wipe the non-existent stain.
After she was satisfied, she sank into the sofa next to me. As I looked at her once beautiful, but now haggard face and my heart strings tugged. She looked at me and put her hands on my cheeks and smiled.
'Now,' she started, 'let's talk about this Brendan fella!' I could feel my face getting hot as I knew well that she knew his name wasn't Brendan, she was just saying that to rile me up….and it was working.
'What about BRANDON mother?' I asked, emphasising his name. 'Do you not like him?'
'No,' she said with certainty. I rolled my eyes and kept squeezing the pillow, pretending that it was her throat.
'Why not?'
'Well he's…...he's……'
'…...black?' I finished the sentence for her.
'Yes!' she was really able to get to where she needed to go from the starting blocks.
'And what's wrong about that?' I asked in a stern tone.
'Nothing,' she wrung her hands, 'it's just my grandchildren will be…. well….'
'…. black?' I did it again.
'Yes!' She was definitely not backwards in coming forwards.
'What has that got to do with the price of bread?' I asked her. 'They'll still be your grandchildren…. your flesh and blood…' I noticed her eyes close tightly.
'Is that why you don't like Brandon?' I asked her, 'because your grandchildren will have a darker skin tone?' my right hand moved away from the pillow and instinctively rubbed my ever-growing belly.
'Brendan is a lovely boy, but I can't be seen with him! What will the neighbours think?'
'Oh I dunno…' I was really starting to see red, 'maybe that your daughter married a lovely guy?'
'Oh god no!' she shook her head with veracity. 'They can't know yere married!'
My tongue was suddenly stuck to the roof of my mouth, my eyes on the ceiling. I roughly placed the pillow on the arm of the couch and stood up. I took in a deep breath. 'So you're telling me that because I married someone who hasn't the same skin tone, you don't approve?'
'Yes!'
Well at least she was honest.
'Do you know why I got married in the state's mom?' I asked dancing on the balls of my feet, trying not to raise my voice. 'I got married there because I knew you wouldn't come. I knew deep down that you didn't approve with my choice of husband!'
'I don't!' she spat, looking me dead in the eye.
I lifted my baggy top to show her the bump, and told her that I was pregnant. She turned pale.
'No grandchild of mine will be…. well….'
'…black?' I said, tears in my eyes.
'Yes!' she said with certainty. Her face grimaced as I gasped in shock.
'BRANDON!!!!' I screamed, my heart pounding out of my chest.
I ran into the bedroom and woke my sleeping husband. 'We have to go!' I insisted.
'What?' he asked rubbing the sleep from his eyes.
'We have to go, and we have to go now!'
Brandon rose from the bed and marched into the sitting room as I lay down and cried hysterically. I could hear them argue back and forth, the wind howling in the distance. Moments passed before Brandon re-entered the bedroom. 'Yup,' he confirmed stuffing our things into the suitcase, 'we need to leave ASAP'. I felt a flutter in my stomach. Even the baby wanted to leave.
As Brandon packed up the rental car, my mother came into the room. 'Are you really pregnant?' she asked with trepidation. I nodded. 'With his baby?' Once again, I nodded my head as the words just wouldn't come.
I sat up and looked at my mother. She looked worried; whether for herself or for my little family, I didn't know. I heard the horn of the car beep over the wind, and sorrowfully got up to leave.
I hesitated as I reached the front door. I turned and looked at my mother's face. I noticed how her eyes were fixated on my stomach. I tried one last olive branch; 'would you like us to stay?'
'No!' my mother said sternly with a cold grimace on her face. She looked disgusted at me.
I rushed to the car, disregarding the elements, and got into the passenger seat. Brandon smiled at me, but all I could see was my mother's face as she looked out the front door, shook her head, and closed it. I began to cry. Brandon put his arm around me and kissed the top of my head. My heart ached, but I knew all I needed was in that car. I smiled up at Brandon and we made our way through the stormy weather to a hotel. I felt complete for the first time in my life, I had closure.
picture from pixabay