Teddy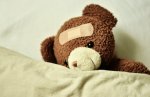 Wed, 16 Mar 2022
'Daddy, daddy, daddy,' Louise repeated tapping her father's shoulder. When he opened his eyes, she smiled at him and asked him to bring her to the park. He sat up as Louise, and teddy, climbed up onto the bed beside him. 'You promised!' she pouted. He beamed down at her and brushed the hair out of her eyes. 'We have to have breakfast first kiddo!' he said in a playful tone and kissed her on the forehead. She put teddy up to his face and he kissed him too.
'Right,' he started, as he heaved himself out of bed and put on his dressing gown, 'would you prefer an omelette or cereal?' Louise was in two minds. She thought hard. 'Can we have both?' she answered him unable to decide. 'No pumpkin, its one or the other!' She went silent again, the cogs in her mind turning. 'Could teddy have an omelette and me have cereal?' He let out a laugh and shook his head, 'c'mon so,' and gave in.
She went to jump off the bed but he caught her. 'You can't do that kiddo!' he said in a soft voice. 'Why?' she asked him. 'Because your mother only lets me have you one night a week and that is not the night you will end up in A&E…...ok?' She wrapped her tiny arms around his big neck and buried her head in his shoulder, all the while teddy in the crook of my arm. 'I love you daddy!' She mumbled into his fleece dressing gown that felt fluffy on her face. He rubbed her back. 'I love you too kiddo!' She kissed him on the cheek and saw a tear fall from his eyes. 'Daddy?' she said to him….'do you know your eyes are raining?' He quickly put the pair of them down and wiped his face with the back of his hand before taking hers.
They skipped into the kitchen together, Louise, teddy, and daddy. He lifted her up onto the stool and asked what teddy would like in his omelette. She sat teddy on the counter in front of her and whispered in his ear before saying; 'ham and cheese please.' Daddy saluted her, like he did when he received his silver star from the president. She mirrored his actions as teddy sat idle on the counter top.
After the breakfast, they got dressed. Louise put a tu tu on teddy and grabbed him by one hand, her daddy's hand in the other. As they left the tiny apartment, Louise simply said; 'daddy I need a wee!' she was crossing her legs as they waited for the elevator. They turned around and re-entered the apartment where little Louise emptied her bladder, teddy as well.
As they took another stab at leaving the apartment, questions were asked, questions that should have been asked the first time. Do you need a wee? Do I have my wallet and phone? Is teddy still coming with us? Satisfied that everything was in order, teddy pressed the elevator button.
As they were walking to the playground, Louise was telling her daddy all about her mom's new 'friend' who tends to have a 'sleep over', on a regular basis. 'How do you feel about that?' he asked, concerned for his daughter's well-being. 'Its ok,' she said as she continued to skip across the pedestrian crossing. 'He makes us pancakes every day,' she shrugged, unaware that her parents were undergoing a serious custody battle. Her father was trying to discretely obtain as many juicy details from his five-year-old as he could – she was oblivious, which was how it should be.
When they got to the park, Louise felt her father loosen his grip on her hand. 'Can me and teddy go play?' she asked beaming up at him. He just smiled and nodded. She had the green light. She ran around the playground first to see what was available to play on, teddy swaying in the dead Florida heat. She saw that there were swings and a slide, like in the park her mother took her to. This park was bigger however, there were monkey bars and a see-saw and some big round things other kids were laying on whilst their nannies were spinning them. 'That looks fun teddy!' she said to her bear.
Louise contemplated what she wanted to go on first. She was intrigued that the slide wasn't just a basic slide, you had to go through a maze of tubes to reach it. She held teddy up and started to climb the ladder to the tubes. As soon as she reached the top, she looked around for her daddy. She found him on the bench next to the trash can and waved. To her delight he waved back. Beaming, she meandered through the tubes and finally reached the slide. It was a much higher and steeper slide than her usual one. She took a deep breath and decided that teddy needed to go down it first. She sat him on the top of the slide and gently pushed the grey, battered old teddy bear down it. She saw that, although yes it was very fast, teddy had managed it. She saw no reason why she couldn't, her bear being an incentive. She sat down, ready to go, when she felt fluttering in her stomach. She closed her eyes and took the leap, so to speak. Her hair blew in the wind and she sped down it so fast that she could only stop when her bottom hit the AstroTurf.
'Ouch!' she said to herself, tears forming in her eyes. Teddy hadn't gone down that fast and as she began to cry, her back side numb from the impact, her father rushed over to her and stood her up. 'The slide made my bum hurt,' she cried. Her father picked her up and reunited her and teddy before carrying her over to the bench he had been sitting on. He kissed her on the temple as she wiped away her tears. They came and went quickly. 'Teddy hurt his bottom too!' she said projecting her pain onto the bear. Her father kissed teddy and she was no sooner on his lap than she was off again on a little adventure.
Louise was a very determined little girl. She squared up to the ladder leading to the slide once again, and once again she dragged her tatty old bear through the maze of tubes. She lingered on the platform at the top of the slide. She waved at her father, who waved back, and almost hung from the bars on the platform. Teddy fell, hitting the AstroTurf. She stuck her little body through the gaps in the railings and tried to reach for him, but she was too high up. She reached and reached when, suddenly she felt herself falling, her stomach felt like she had missed a step on the stairs and then, thud……she had hit the AstroTurf head on.
She could feel her body ache, her head was raining a dark red substance. Her father rushed to her side. She could hear him call out her name, 'Louise, Louise,' the sound was muffled. Her eyes were getting heavy. She felt teddy being placed in her hand, and then ……silence.
Louise woke in the ambulance, unable to move her head. Her neck had something on it, she pulled teddy close and her eyes searched for her daddy. 'I'm here pumpkin!' he said but she couldn't hear him. All she could hear was the ringing in her ears. She could see him though. His eyes were raining again. She felt him gently caress her hand, the same hand that was clutching onto teddy. Her eyes became heavy again as she smiled up at her frightened father.
When Louise next became aware of her surroundings, she felt her head throbbing. She heard whispers. Her tiny hand started to move, finally finding the thing it was searching for…. teddy. She opened her eyes slowly, the light shone brightly over her. She tried to lift her other hand to shield some of the brightness away, but her mothers hand cupped it so tightly it hurt. The bright light dimmed as her father's head blocked it. 'Heya kiddo,' she heard but the sound was distorted. She groaned, prising her hand free from her mother she touched her head. It had a big soft bandage around it. Her mother took her hand hostage again.
Over the next hour she heard her parents argue through the distortion. She couldn't make out the words, but that was a blessing in disguise. Louise didn't need to hear her mother blame her father for her getting a blood clot on her brain from the fall, or the fact that that same blood clot had to be surgically removed.
When Louise saw someone else enter into her scope of vision out of the corner of her eye, she moved her head to see who it was. She saw a needle being pushed into a tube and felt a cold sensation start in her hand and move its way throughout her body. She could feel her eyes closing as the voices ceased, but teddy was still there, her hand held onto him as tightly as it could.
Louise got better and better as the days passed. The distortion in her hearing resolved itself overnight and she was sitting up playing with teddy, who also had a bandage on his head, just like hers, when her father walked in the door. 'Daddy!' she beamed. He kissed her sore head, and then teddys. 'You gave me a fright kiddo!' he smiled, his eyes raining again. She asked 'when can I and teddy come on a sleep over again daddy?' She watched as he looked over at her mother who rolled her eyes and shook her head, 'soon kiddo! Very soon!' Her mother rushed out of the room, leaving the chair vacant for her father. Somehow, she knew her and teddy were going to be ok. She handed him a book her mother had brought in and lay back on her pillow, her eyes getting heavy again, teddy in the crook of her arm.  
picture from pixabay