Three Strikes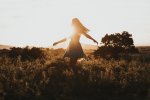 Wed, 09 Jun 2021
Penelope nervously rocked backwards and forwards in her chair as she sat in wait of Dr Megan O'Neill. Penelope was dreading the meeting as she knew she was about to be chastised. She jumped as the door swung open and Dr O'Neill entered swiftly and authoritatively.
Dr O'Neill moved towards the chair furthest away from the door, her coat, like a cape, swishing behind her. 'Hello Penelope,' she said in a soft soothing tone as she placed her brown leather bag onto the wobbly wooden table and took out her slate grey laptop. 'Hello,' Penelope said nervously, her voice echoing in the sparsely furnished room.
Penelope, trying to avoid Dr O'Neill's gaze, picked a spot on the floor onto which she stared. She could hear the click, click, click of her consultant psychiatrist fingers on the keys of the computer. 'Hhmmm, I see' Penelope heard Dr O'Neill say as she was reading through the nurses notes from the past week. Dr O'Neill focused on the large, fresh primapore dressing on Penelope's right arm. 'I can see you were distressed last night,' she said in a calm soothing voice, to which Penelope nodded, admitting to self-harm. She was hesitant wondering if a reprimand was on the horizon.
Dr O'Neill, who was Penelope's interim psychiatrist as her regular doctor was out on maternity leave. 'You do remember the three-strike rule?' Dr O'Neill asked Penelope. She got recognition from a nod. 'Three incidences of self-harm and you are automatically discharged,' Dr O'Neill reminded her. Penelope knew that she had hit strike three. She had a feeling of increasing unease as Dr O'Neill sat back, her face set, her arms folded.
An icy surge of terror filled Penelope as Dr O'Neill's disapproval emanated from her gaze. 'I'm afraid I have no choice…...' she paused for a second that, for Penelope, contained an eternity, '……I've no choice but to discharge you!' Penelope was utterly perplexed. She couldn't grasp the rational of discharging an individual from a psychiatric hospital for showing distressing symptoms. She was feeling a particularly strong surge of hatred towards Dr O'Neill at that time.
Tears streamed down Penelope's face, she was astonished that Dr O'Neill was actually going ahead with the discharge. She knew, however, after performing the act of self-mutilation that she would be sent home, she even packed up her belongings that morning after she was told Dr O'Neill wanted to see her.
'I'm not abandoning you!' Dr O'Neill explained, 'I care about you and what happens to you!' Penelope wiped her eyes with the sleeve of her jumper. 'I want you in here every morning at eight o clock to touch base,' Dr O'Neill revealed. Penelope was confused and lifted her head, making eye contact with her doctor. 'If after one week you still need to be hospitalised, ill bring you back!' Dr O'Neill's eyes twinkled in the sunlight that was beaming in the window opposite the door.
Penelope shot her a quizzical look. 'I am simply trying to teach you self-respect and responsibility,' Dr O'Neill put her elbows onto the unsteady table and drummed her fingers together, in wait of a response from Penelope. 'Ok,' Penelope answered with disdain.
Over the next week, Penelope dragged herself out of bed at half five to get the first train from home at twenty past six. The train journey was followed by a tram to the hospital. Dr O'Neill was impressed by her dedication to resolving her mental health issues. After day six, Dr O'Neill asked her to bring her bags with her the following day, that there was already a bed awaiting her arrival. 'You should be proud of yourself Penelope!' Dr O'Neill offered. They locked eyes and came to an understanding, Penelope finally realised why Dr O'Neill had been so harsh with her rules and respected her for that.
On the Monday morning after Penelope's readmission, she was rested and eager to impress Dr O'Neill by taking whatever she threw at her next. To her surprize, she was asked to go to the local tattoo parlour and get a piercing into the cartilage of her ear. Penelope was puzzled over the bizarre request yet followed instruction. That night Penelope understood; she was being asked to control whenever she wanted to inflict pain on herself in a relatively constructive manner. She came to that understanding as she was cleaning her freshly pierced ear because it hurt.
'How did you get on?' Dr O'Neill asked In the Wednesday afternoon ward round. She almost gasped as she witnessed the first smile Penelope had ever expressed in her company. They nodded at each other. 'Anytime you want or need to self-harm, go and get another piercing. I have arranged the leave with the nurses already and informed them on the situation,' Dr O'Neill explained. Penelope was comfortable with the plan.
Two months and eleven piercings later Penelope had learnt how to open up to Dr O'Neill. She trusted her, the first person in her life that she expressed emotions to in detail and the validity of those emotions.
Dr O'Neill regretfully announced that Dr Farrell would be back the following week. To Penelope's surprise, she was genuinely upset. They ended things with a very emotional embrace, both with tears streaming down their faces. Penelope was going to miss Dr O'Neill greatly as she had changed her life, she had limited the self-harm and gave her confidence no one had ever given her before. Dr O'Neill made a lasting impression on Penelope, an expression of hope.
image from pixabay