EARTHWORMS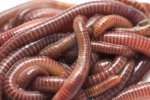 Fri, 07 Nov 2014
let's talk about the earthworms
they're an oddity to me
i guess we call them earthworms
cause they don't live in the sea
.
but why the name of "earthworms" ?
do they live just here on earth
are we the only planet
where a worm has given birth ?
.
there might be worms on jupiter
that have a great red spot
perhaps they live on mercury
with bodies, fiery hot
.
the worms out there on pluto
aren't acknowledged anymore
the worms that squirm on saturn
are adorned with rings, galore
.
perchance, they live on venus
they'd be beautiful and white
i think the worms on mars
swim in canals all day and night
.
it could be worms on neptune
have a tint that's ocean blue
do worms live on uranus ?
for your sake, i pray not true