ICE CREAM HEARTACHES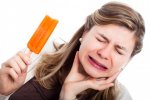 Tue, 24 Feb 2015
we've all had ice cream headaches
what a special brand of pain
your brain feels like it might explode
you can barely stand the strain
.
you pray to heaven it will stop
just before you lose your mind
but you just have to ride it out
till relief, at last, you find
.
at times, i have such horrid thoughts
much too awful to behold
i would have an ice cream heartache
if you ever left me cold
.
i'd never give up ice cream, no
even though it might cause strife
i'll take the consequences, yes
when i feel that headache's knife
.
your love, i could not live without
i'd be just as good as dead
but at least i wouldn't worry, no
'bout a train wreck in my head
.
yes, losing you would end my life
even if i wasn't killed
i would have an ice cream heartache
if your love, towards me, had chilled