THE LAST SUPPER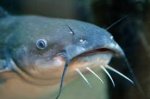 Sun, 23 Nov 2014
they gathered all together
as they often had before
for a melancholy supper
that would rock them to the core
.
for they knew he was the chosen
in mere moments, he'd be caught
a soul to be delivered
so a lesson could be taught
.
they all had heard the rumors
and their worries had been dire
because he was the best of them
they knew he'd soon expire
.
the elements were all in place
the trap soon to be sprung
it was to be his destiny
as prophesiers sung
.
thus began the final supper
with the morsels all in place
the chosen one moved forward
with a calmness on his face
.
the cast was set and ready
and he gladly took the bait
they hooked poor freddie catfish
and they said he tasted great