LOVE IS LIKE CLOTHING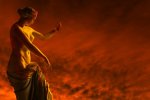 Thu, 09 Apr 2015
although it's taken several years
i've come to realize
that love is like a suit of clothes
that comes in just one size
.
when one attempts to wear them
they will often not quite fit
they may be rather loose and large
or pinch you just a bit
.
the pants may be a bit too short
or drag upon the ground
a hat may cover up your eyes
at least so i have found
.
a belt's length may be incorrect
the wrong amount of holes
some shoes though shiny on the top
are wearing at the soles
.
a shirt may lack a pocket
or a button may be lost
a pair of socks grow little holes
until they should be tossed
.
sometimes things do not match at all
like polka dots and checks
or maybe too constricting
like a scarf that strangles necks
.
most people keep on trying
to adapt the clothes they're in
and though they find they're hurting
they refuse to bare their skin
.
while others just discard them
for they're just not in the mood
for feelings of discomfort
and they don't mind being nude