MOUNTAINS AND VALLEYS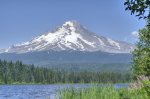 Sat, 15 Nov 2014
when you're traversing mountains
there is just one reason why
to make it to the summit
for a clear view of the sky
.
it's like achieving happiness
there's rapture at the top
but when you reach the apex
must this joy inside you stop ?
.
when you climb down through a valley
you must reach the bottom first
you cannot know the best in life
until you've seen the worst
.
it gives you inspiration
quickly puts you in control
and you will not stop climbing
till you've reached that lofty goal
.
but once atop that mountain
make a home there on that peak
for that's the destination
that your heart was meant to seek