RAIN GEAR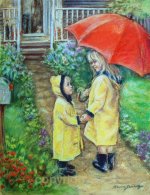 Wed, 22 Mar 2017
when wild and windy weather
add some moisture to the mix
there isn't any downpour
your umbrella cannot fix
.
by keeping us protected
they will take the risk of strain
there's always thrashed umbrellas
at the end of any rain
.
we dress for certain weather
then the forecast is a hoax
we seek to add a layer
for a little warmth to coax
.
then right back to the closet
when the weather's nice and warm
there's always soggy raincoats
at the end of any storm
.
but the rain won't last forever
neither will the sunny days
and you must keep the balance
as you go from phase to phase
.
keep your eyes locked on the future
till the tempest's finally passed
you'll find rejuvenation
when the rainbow shines at last