SINGING HEARTS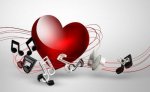 Tue, 18 Nov 2014
a heart beats out percussion
like a drummer in a band
but needs a bit of melody
to lend a guiding hand
.
the music of the heart is pure
as flawless as can be
but it can be a lonely song
in singularity
.
there's someone in that vast parade
that you have never met
and hearts sing out much lovelier
when locked in a duet
.
you'll surely know when it occurs
the song you hear's a match
the very notes they're ringing out
are there for you to catch
.
you'll soon begin to harmonize
with voices, blending true
the chorus, you're enhancing
with just not one heart, but two
.
a heart beats out percussion
like a drummer in a band
but when you find your heart's in tune
you'll truly understand