TIME AND DISTANCE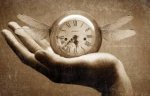 Thu, 08 Oct 2015
let's fine dine, sweet love of mine
let's make the moment last
when hand in hand, it's wonderland
and time unwinds too fast
.
for me and you, the times are few
where we can kiss and touch
our fingers trace each other's face
discovering so much
.
let's sway and dance in sweet romance
in dreamlike states, we float
our heartbeats slow to match the flow
of every gem filled note
.
there seems to be eternities
between our days of sun
but though our hearts may be apart
they're always linked as one
.
there'll come a day when we can stay
wrapped up with time to spare
but now our shifts are precious gifts
when loving we can share
.
our distance lends a special blend
of flavor to our world
and with it brings, the fields of spring
where blossoms all unfurl