Lost and found - Delarosa, 2nd March, 1976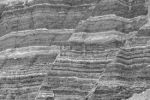 Fri, 11 Nov 2016
Lost and found
Delarosa – 2nd March, 1976
The heat from the crowd is intense and I'm vivid in the moment.  Looking down at the people, the sweat on their expectant faces glosses individual features and blurs them all beautiful. 
The drum begins - brutal and spare - and it's joined by the swaggering groove of the bass.  I walk forward and hold the microphone, legs apart, sneakers scuffed.  All New York cool.  The shitty little room is transformed by the darkness and the pooled-light glamour of the cheap chandeliers.
Gripping the microphone with both hands, I notice the snake tattoo on my arm seems to be writhing in the stage lights as the crowd goes wild.  Then, as I'm about to start singing, I wake up.
It's been a mild winter and this has made the first hints of spring seem less potent and less hopeful.  This morning, there was a last ditch frost on the window of my bedroom, but it just seemed weak and mean.  Kind of passive-aggressive.
I put on my robe on and think about fixing breakfast.  Mom's in town and Dad's somewhere out in the yard, maybe in the woods. Through my bedroom window, I notice the morning star cold and shining in the watery sky.
And when we were eight, Gretchen and I had skipped on the sidewalk.  Faster and faster, up and down until our sides hurt.  Two little girls looking so sweet in our matching dresses and polished, strappy shoes.  The autumn day was a drifting, misty blue and not in any way shaded by our apartment block.  Mom and our apartment were ten floors up, but we didn't care.  We were eight years old and we were skipping.
Gretchen had made a sudden squeaking noise and I'd turned to see tears rolling down my sister's face.  "Why are you crying?" I'd asked.  Gretchen had looked round with her deep, grey eyes.  "I'm crying because of the sky.  It's so beautiful", she'd said.
The mirror in the hallway catches my reflection.  It's a large, ornate brass thing my mom picked up in some yard sale.  I look at myself in the mirror and God, I resemble my parents.  My dad's eyes looking back at me and my mother's frown. My face and Gretchen's the same.
And when we were fifteen, I'd had the best day.  In Rudy's Record Store on Fourth Street.  Me out on the town with dollars in my pocket.  Gretchen was meant to come, but she was sick, she was ill, she'd got the blues.  But you know what?  Fuck her.  She'd known what she was missing.  I'd browsed through the titles, flicked through the racks.  Velvet Underground, Bob Dylan and Patti Smith.  I'd strutted a little with vicarious cool.
Across the aisle, I'd seen a guy in scruffy brown leather, lean and low down dirty.  He didn't notice me, but I sure as hell had noticed his snakeskin boots.  They made him look phony – richer and more studied than the thrown together casualness of the rest of his look.  I'd taken one detour round the guitars and looked at the god-like Gibson.  What I wouldn't have done to own that.
Having paid up for what I'd bought, Rudy's logo neon bright on the bag, I'd left to catch the bus home; Sam and Dave's Soul Man following me out of the door.  Music from another time.
After breakfast, I tidy up and feed the cat.  All the time I've been eating, it's sat watching me by the hyacinth bowl on the counter, its bad ass stare, long and measured.  I shoo it through the door into the yard and go back to drinking coffee at the kitchen table.  When I've finished, I rinse my coffee cup in the sink and through the half open blind, I see a fox and her babies playing in the yard.
And Gretchen had told me about the time in the Razor Club in Portland when she'd given head to some guy in the back room. As he'd finished she'd wiped her mouth.  Then she'd recalled the joke he'd passed on.  What does the whore say when she wants to get noticed?  She call girl, she call.
I'd written Gretchen, asking her to come home, but she'd disappeared into the heart of the city.  I'd sent letter after letter to her last known address, but there was no response.  Mom was frantic with worry and Dad was just silent, but in any case, what could they do?  I kept thinking I could see her in the mall, in the park, in the pagoda by the ice rink.  In these meetings, her expression was always vacant, if slightly amused - and I know I hadn't really picked her out of all the other faces.
At the bottom of our yard, the woods are endless and they look expectant with the future promise of buds and blossom.  The early frost has gone now and the sun shines weakly through the cloud.  I'm remembering one tree in particular.  The black ash we'd knelt under in the bracken.  To carve our names with a pen-knife on its trunk.  Delarosa and Gretchen forever.
And of course the day had had to be cold.   The cemetery was exposed to the harsh, north wind and my thin spring coat had given scant protection.  During the service, dad had stood still like a tree in winter and mom had not looked at me; but she'd leant on my shoulder, soundless sobs shaking her tiny frame.  As I'd walked with her through the cemetery gates, my shoes had pinched.  They were too high and totally unsuitable and I'd wondered why I'd chosen to wear them at all.
Afterwards, I'd felt a mixture of anger and nothing, and I'd just wished we were little girls again.  "At least she's going home", mom had said to someone standing behind her, but I didn't believe it.  Old Ma Faccini from the diner had clasped her hands together and said she was so sorry Gretchen-Ann had gone, but I wouldn't have it.  "She was Gretchen, never Gretchen-Ann", I'd said and I'd stifled an urge to both cry and laugh.
On the night after the funeral, I'd dreamt I was standing at the edge of a lake.  Gretchen was stood next to me on the shore, looking out at the lake's black sheen, the cold from the water rising like inverse steam.  I'd picked up a pebble and felt its smooth blandness under my fingertips.  Then I'd skimmed the pebble across the water and it had bounced and bounced before vanishing.  But standing on the lake side, I'd thought I could still hear the echo of its movement long after it had disappeared.
And a woman had risen from the water.  There was a haze across it and a myriad of insects were hatching and hovering on its surface.  The lake was a pale, steely grey and there was definite movement about three feet out.  I'd looked more intently and saw the unbelievable.  A woman floating on her back under the water.  She was a silver colour and naked.  Her long hair streamed metallic and her eyes were of no colour at all.
She'd looked up at Gretchen and me through the water's film and her expression was benevolent and still.  I'd held her gaze, moving my attention for a moment to her gently paddling hands.  For a second in my dream, I'd shut my eyes and when I'd focused again, the woman had gone.  But I had been left with the thought that although Gretchen was no longer standing next to me at the edge of the water, she hadn't really disappeared at all.
And Gretchen and I were little girls again, giggling to each other, dancing and whooping.  Playing in the woods past our curfew in the darkness of evening. And none of this was real and all of it was.  Or at least as real as anything ever is in this world.
*