A Bridge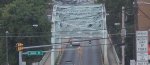 Thu, 14 Feb 2019
Hey, this is no time to be pointing fingers! Ger admonished. Why don't we operate on the apparently popular opinion and go with, it's all my fault. I own it, now how do we fix it? I'm stuck in a tree with a naked girl and a hunter pack sniffing around below me. Yes, we're safe enough for the moment, she's still out like a light bulb and we're in a camo bag. How? She wandered into my garden last night, I picked her up while she was swimming in the new pond. The one from the cliff collapse, in my last monthly! Yeah! Hey, hey, back on track here, paperwork aside what do we do to solve the problem?
No I'm not going to just leave her! What kind of a suggestion is that? Last I checked we aren't them for a reason. She had to come from that raid, they don't usually let any of those folks get away. If that's where she's from then yeah, it's close to a hundred klicks from here. She's gotta be part deer. If I hadn't held her up she'd still be running. Yes, the garden… I see you looked it up. Yes, at one time they were on the cliff, keep reading. Yep the one that collapsed, that one! And made the pond, yes. Welcome to the party, glad you could make even if it is a little late.
Hey she just walked up from downstream, sat down and ate a kush pod. I heard her from up on the cliff where I was harvesting when she split it. How the hell did I know they were after her? She took a dip in the pond, ate some more, scrubbed her and what she was wearing off and left her kit out to dry on the rocks. It took me a bit to see what was happening, there were still vines in the rock fall. Venu came over, they started seeing 810nm and popped open, didn't see that coming, she saw them too. Next thing I knew she was down and I scrambled down to make sure she didn't drown. They work great by the way. I was going to just let her sleep it off when this bunch came barreling up all in a tizzy, I grabbed her and did a spiderman up the nearest tall tree. I don't know, about twenty five, thirty meters, dense below, we're in an open break below the canopy. I have eyes on them, they can't see us.
Wait… That's your plan? No, no, you're right we're fine right where we are at the moment. Just glad I called in the experts on this. I surely wouldn't have come up with that on my own. Distraction, good I like it already! How long would that take? Anything! Just put something up ahead they can chase until they get tired. Something that makes noise and smells, it looks like they have a genunit along. Nasty looking fellow. No, at the moment he's sniffing her clothing and hopping around trying to figure out where she went. They rest of them are looking bored, standing around guarding random crap.
She's very cute! Young, I ran vitals on her as soon as I got to her. She's pregnant, less than a day or two. She couldn't even know yet. I think she's starting to come around, I'll have to get back to you. Message me when you get something going, yeah?
---------------------------------------------------------------------
MxIn: Hey we have an idea here.
MxOut: Go ahead
MxIn: We sample and model her scent and lay a trail upwind. Take about 12 hours to set up and deploy. Advise when/if they move and direction.
MxOut: What about a physical replica?
MxIn: Take longer, 3 days to make another day to deploy at least.
MxOut: Get that in work. The gen is going nuts trying to pick her up. They're going to need a body before they give this up.
MxIn: You got it. Will advise, stay in touch. End