Cod War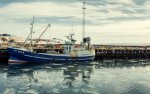 Sat, 11 Apr 2015
1 likes
A low key Icelandic harbour,
one jaunty fishing boat,
the salting-shed is shut,
gulls swoop,
ducks bob on the swell,
their Frankie Howard, 'ooohs'
take me back to the 70s.
Freshly arrived in England,
after six weeks at sea 
my land legs were wobbly.
We watched the BBC
on a black and white TV,
after, Family at War,
the News:
IRA, powercuts, cod wars,
neverending
Vietnam war.
'Cup of Tea?'
We took sugar
whether we liked it or not.
I could not understand
this war with cod,
'imagine no more fish and chips'
but my father bought rock eel.
I learnt more in Social Economics,
a subject which,
with Esperanto and Modern Embroidery,
set me up.
We marked fishing perimeters
on maps of Europe
my mind drifted beneath
into the dreamy world of cod.
I swam with them and gaped
at the approaching net,
felt the last gasp,
drowned in air,
was dragged to grey death.
I read the ubiquitous information board:
'Nigeria is the largest importer of Icelandic salted cod'
it's a small world.