Bring Out Your Dead - Part 27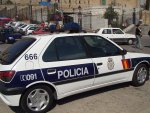 Fri, 09 Sep 2016
Continued from Part 26
D.I. Wood suddenly started from his previously peaceful slumber.
"Did you hear that, Stoney?" He looked around, wildly.
"Hear what, sir?"
"That awful noise. Sounded like someone with his bits caught in a mangle!"
"Not really, sir. Could have been the fan-belt or something, slipping on the car? I don't think it was designed for hills like this"
"You're not joking, are you? Can't it go any faster? We'll be back where we started at this rate!"
"Not without catching up with the van, we can't. They're going slower still"
"You know, when I started out, I was in motorway patrol. Bloody marvellous! Belting along at a ton or more, especially when they radioed to say the fish and chips had turned up in the control room" He looked out at the road creeping along beside him, "reckon I should have stayed there"
******
Amber sat and shivered, despite the comforting presence of a foil hypothermia blanket, and the ministrations of a woman police officer.
The entire establishment of the hotel, staff and residents, were sitting on the restaurant terrace in various states of disarray. The scene was sporadically illuminated by the flashing lights of the police cars parked on the front.
"Well, that was interesting" Lawrence said as he sat down beside her, "I've just been chatting to that policeman over there, speaks pretty good English, actually"
Amber continued to stare straight ahead and shiver.  The policewoman took Lawrence's return as a cue to rejoin her colleagues.
"Anyhow, it seems that they think 'it', or rather 'he', came from next door.  The undertakers'" Lawrence added, by way of explanation, "they don't know why or how, or even who 'he' is for that matter, but that's the theory they're working on at the moment."
Amber turned and regarded him coldly. "Do I take it, from your cosy chat with the constabulary, that they no longer regard me as a murder suspect?"
"Oh no, not at all.  Apparently, whoever 'it' was, has been dead for some time, long before we got here.  There were signs of the undertaker's work on the body, apparently.  Really odd 'him' turning up in the drawer of your bed like that!" Lawrence was quite enjoying the intrigue and excitement of the situation.
"Odd!  ODD!!! Is that all you've got to say about it, that it's ODD?"  Amber's rising tone was attracting worried glances from their immediate neighbours.
"Please Amber, don't get upset" Lawrence glanced around to see who had noticed, "You've got to admit, it is a little strange.  Still, no harm done."
"NO…HARM…DONE?" The neighbours began to shrink away, sensing imminent danger even when delivered in a foreign language.  "Are you absolutely out of your tiny mind?  I've been groped by a corpse in the middle of the night and you say 'there's no harm done'!"
"Well, perhaps that wasn't a good choice of phrase…"  Lawrence began.
"You think?" Amber snorted.
"What I meant was, that at least it wasn't a murder, or a violent crime of some sort.  Just an unfortunate mix-up."
"I want to go back to the room."  Amber stated, flatly.
"You can't dear, it's a crime scene."  Lawrence reflected for a moment, and then had a bright thought, "Here, you'll laugh about this.  Apparently, the police were telling me, when you screamed as loudly as you did, some people in the neighbouring villages took it for a tsunami warning.  One or two even started to head for the hills" He chuckled, "What about that, eh?"
"I want to go back to the room"
"I've already said, we can't dear.  Probably not for some time.  I'm sure the hotel will fix us up with something else."
"I don't want another room."
"No, I understand dear, it was rather splendid wasn't it?  But, I'm afraid we may not have a lot of choice in the matter."
"I mean, I don't want a room, full stop!  I want to pack and get as far away from this hell-hole as possible."
"Now really, Amber, I think that's a little drastic.  Bit of a knee-jerk reaction if you ask me.  I'm sure, when we've both had a good night's sleep, we'll be able to laugh about this in the morning."
Amber turned and stared coldly at Lawrence, who gulped as an icy chill ran down his spine.
"No, I suppose you're right, probably not" He agreed.
"I want to pack, and I want to go home"
"Really dear?  Are you sure?"  Lawrence pleaded.
"I've never been more certain of anything in my life."
"I'll go and check the flight times" Lawrence offered, miserably.
"You needn't bother.  I'm not going through that performance again."  Amber stood with a determined look on her face.  The sea breeze trailed the foil blanket from her shoulders like a super-hero's cape.  In the dim light of the hotel terrace, she looked like an avenging angel with a particular grievance.  "We'll catch a ferry.  They go from Bilbao and we're going to be on it."
"But, darling, that's such a long way away, and then there's the matter of the hire car…" Lawrence began, despondently.
"Sort it, Lawrence" Amber's stony gaze took in the stroboscopic lights of the police vehicles and the hunched and miserable residents of the hotel surrounding her, "Just sort it!"