Freedom Flight #1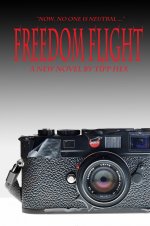 Thu, 08 Oct 2015
Mason Harley glanced at the envelope the fighter had withdrawn from within his jacket. For a brief second he thought that he might be reaching for a gun. A pretty stupid thought considering he had an AK47 next to him and three tough fighters on either side both heavily armed. It had been a long time since he'd been a cop, but instincts remain deep. Two sheets of paper were taken from the envelope.
'You read this.' The fighter told him in flat tones, offering the pages to Mason.
Crisp, ink-jet printed Arabic text, withdrawn as they were from deep within a mud-caked and battle scared jacket, seemed incongruously out of place amongst the shell-damaged remains of this suburban house here on the outskirts of Damascus. Mason, sitting cross-legged on the rubble strewn floor, shook his head.
'I'm not going to read out anything.'
'You think I am ISEL?' the fighter said, as if trying to understand.
'Aren't you?'
'If I am ISEL, you think you would still be alive?'
Mason had wondered about that.
'My name, if you like, is Ahmed. Who I am is not important. This is your camera, no?'
Ahmed picked up Mason's Leica M9, taken from him when he had been abducted. 
'Maybe I let you take my picture, later. After you read this.'
Again the sheets of paper were offered to Mason. He took them and scanned the first paragraph.
Dean could feel what little strength he had left pool inside his chest. But it wasn't enough. The calming exercise wasn't working, his reserves were draining.
His personal sundial, a shadow from one of the six steel bars from his cell window, crept down the wall, its shadow a broken line over crumbling brick.
'What's this? You wrote this?'
Ahmed shrugged.
'It is true story. Read. Please.' 
'You think I can get you fucking published or something?'
'No, not published, but you are famous journalist, no?' 
Mason thought fast. If this madman thought he was famous then there was a chance he might get out of here alive.
'Sure, famous, I can help, sure, I know lots of people.'
'Mr Mason, don't misunderstand, I know about you. I know who you work for'.
Mason's throat, already dry, tightened. It was Mason who broke eye contact first.
'You read now. We talk later. Read'.
A movement drew his attention away. On the floor, a scuttling cockroach halted as if aware it had been seen. Motionless, apart from its languidly waving antennae, the roach sensed the changing air pressure from Dean's strike and reacted a fraction too late.
Stax laughed. "You goin' to eat that?"
Dean gave Stax his dead look. Then turned back to study the cockroach captured in his fist, fighting against its sudden imprisonment, legs clawing, scrabbling for escape as Dean tightened his grip.
"Now you know how I feel," he whispered to the roach.
The roach became motionless, pausing for a second as if in understanding – then redoubled its efforts to be free. Dean smiled.
"Did you know, Stax," Dean said with slow deliberation, "that these bastards can survive just about anything? Even a nuclear war, where radiation fall-out would wipe everyone out, these guys would be unaffected. These fucking roaches would inherit the world."
"That right?"
"That's right."
Dean allowed the roach to struggle its head out the top of his fist, but no farther. Its antennae waving in the air frantically.
"They're survivors, they'll eat anything, even their young, anything it takes to survive, they'll do." Dean stared at Stax, adding, "Take the head off, and the body just carries on – until starvation kills it. Watch…"
Dean brought the roach up to his face; its antennae sensed the salt-sweat from his skin and reached out to him. Dean's teeth carefully closed over its head and bit through the neck. He savoured the taste of the decapitated head for a long second – positioning it carefully between his rear molars – then delicately crushed it as if with a connoisseurs delight.
"You're sick fucking bastard." Stax spat and turned away as Dean dropped the now headless roach onto the concrete floor, watching as it scuttled aimlessly around.
"We're all sick bastards in this place," Dean said as he stamped on the headless roach, listening to it crunch, watching its insides explode from its exoskeleton and splattering in a wet brown circle under his naked foot, "and I ain't goin' to end up like this fucking roach."
Stax laughed. "Yeah, tell it to the commandant, I think he's got other ideas."
Dean fixed Stax with a glare until his mocking laughter died and he slunk away.
"They can't keep me here forever, someone from home will pressure them into releasing me, you'll see."
"Yeah Dean, IF the bastards ever acknowledge you're here. They could just 'lose' you – know what I mean?"
Dean knew all to well. Out here, rules didn't apply if 'they' chose to ignore them. He'd already been thrown to the rapists in this desert jail as entertainment – to be used, abused and forgotten. The guards worked out by working him over. Whenever he slipped up. When the defiance shone just that little too brightly in his eyes.
He moved closer to Stax, grimacing at the effort. The rectal injures were healing, but slowly.
"Listen, Stax, I think I'm losing it, and I think you know that. You're different, you're not like the others, I want you to have something – in case I get really fucked-up."
Stax stared at him warily.
"Ok, what the fuck is it?"
Dean turned away and began scratching at the wall behind him, carefully checking that no one else was watching. A piece of a brick came out.
"Give me your hand." Dean whispered.
Stax took the small package, glanced at the contents placed in his fist, and then hid his hand by his side.
"If I don't get out, give that to the papers or someone when you're out, let them know what happened to me inside here. Everything – names, beatings, everything – it'll do them, fuck them up well and good."
"Shit, Dean, put this back, I want nothing to do with it!
Dean replaced the package of torn scraps of paper back into its hiding place, and slumped against the wall.
"You know where it is now Stax – do what you can, smuggle it out. I just don't think I'll survive this shit much longer." Dean's head fell back against the wall. "I don't care, do what the fuck you like."
"You'll survive, they won't hurt you too bad, you'll get out."
"Fuck, Stax, they gang raped me so bad they had to fix me up in the hospital – and you know what that bastard guard said to me in there? He wants me back, healed – just so they can do it again! Not again Stax, never again …"
Stax made no comment. Dean was in his early twenties, fresh meat to the beasts in here. Stax didn't have that problem, too old and ugly. He knew that Dean would be targeted again.
"Shit, listen Dean, I'll do my best, try and stop them if they try. Hell, maybe they'll even leave you alone now – and you'll get out soon, perhaps they're satisfied with what they've done. You'll get out – you won't need me to get that story out, you'll see."
Stax almost believed himself. Perhaps Dean did, because he laughed.
"Maybe I will get out, Stax, one way or another. I ain't stayin' here, you'll see, I'll do whatever it takes – fuck the bastards!"
"Who you want fuck, you white pussy-boy, huh?"
Neither had noticed the guards approach. Dean's heart sank. The smile had that grin of anticipation. Stax scuttled away into a corner, as far out of the way as possible.
"You want a nice kiss perhaps, huh? So, if you want, I give!"
The 'kiss' came fast, a vicious blow from a heavy wooden rod, and it sent Dean sprawling.
"You go nowhere, you stay here forever," the guard snarled into Dean's face, hoping for some reaction, watching his eyes until that defiance, that light, faded.
Dean retreated within himself. Survive. Do whatever it takes.
"Good," his guard gloated, his interest in handing out a new beating fading. He desultorily followed up his disappointment with a vicious last jab into Dean's stomach, "you good fucking boy."
Dean slumped down against the cell wall, his head on his chest. He kept his eyes down, studying the dirty black boots of the guard as he turned and walked away. He spat out the bile in his mouth, watching as it flew in a strange form of slow-motion, a perfect arc, landing squarely on the guard's foot. He stopped mid-stride and looked down at the wet spittle, then back at Dean – and smiled.
"For that, you pay, pussy–boy!"
He strolled over to Dean and launched a kick into his chest. Dean bounced of the wall and fell forward, kneeling, gasping for breath. The guard laughed and began undoing his flies.
Stax, his promise forgotten, cowered in the corner.
"Now, pussy-boy, you suck this good! Make me very happy! I don't beat you, ok?"
The guard hauled out his flaccid cock and slapped it against Dean's face. Fingers prized open Dean's mouth, forcing inside the rapidly growing member. Dean felt himself gag, the bile rising from his stomach as the guard, grunting, began to fuck his face.
An image of the headless cockroach filled Dean's brain – and he knew what he had to do. He looked up. The guard was smiling. Eyes half-closed as he pulled Dean's head, forcing his cock as deep as possible at each stroke, building to his release... just as Dean bit.
Screaming like a disemboweled dog, the guard howled in panic and agony as blood sprayed in a ruby fountain from the base of his severed penis.
Other guards, alerted by the noise, rushed into the cell, their expressions reflecting the horror of their compatriot.
Dean was smiling. The warm blood of his victim trickling down his face, dripping off his nose and pooling around his knees as he watched them drag away his victim. The severed penis was still in his mouth. He swallowed. Far away, he could hear Stax being sick.
Dean hadn't moved by the time the guards came back an hour later. There were four of them. Two launched into him with their fists and feet. The others had steel rods. Dean curled into a ball, arms over his head in protection.
The steel broke his arms. Another blow shattered his teeth and another his jaw. They worked his body, breaking each bone systematically. As the pain washed through him, a few feet away he could see the crushed remains of the cockroach. He hoped Stax would remember his promise.
His senses dulled, his sight blurred and the pain became a welcome, deadly caress. Dean blinked away the blood, starring at the cell bars, the blinding light and the shadow of his sundial. It was time, at last, to unfurl his wings.
**************
Mason looked up to see Ahmed watching him intently.
'You wrote this?'
Ahmed shrugged. 'I have something else for you'.
Mason watched as Ahmed retrieved something else from within the folds of his jacket and handed it over. A small folded scrap of brown paper. Mason unfolded it carefully. Torn, smeared and filthy, a battered scribbled note revealed itself.
Ahmed leaned forward and placed a hand on Mason's shoulder. His other hand closed over Mason's, and the note.
'Take it with you. Take storey too. Read it somewhere safe. It is Dean's legacy. I was there. I watched. I listened. I survived. Stax was weak, would have given it away. I saved it. My English not so good. You will see more in words than I understand. Maybe you know what to do, eh?'
Ahmed's hand dug hard into Mason's shoulder, his face inches away, smiling a kind of smile that held no warmth, just a warning. Mason folded the scrap of paper into a section of his belt that was about as secure as you could get in a war zone.
'How can I contact you if I need to?'
Ahmed smile faded slightly. 'Pray I don't need to find you, is all. Ma'a as-salaama'.