Mother Saraswati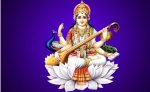 Mon, 11 Feb 2019
Mother Saraswati
P K Routray
I propitiate
lying prostrate,
kissing the feet-dust of the deity
an epitome of calmness and purity
adoring her from the abyss of my heart.
the Goddess of wisdom and art
having also affinity to water
as interpreted from the scripture.
She is Ma Saraswati, the Godly incarnation
holding a harp, a book and many a weapon
enthroned on a lotus flower
with her chariot as a swan on water.
Each has a symbolic representation
on learnings, music, art and power of discrimination.
Gazing at her figure conceiving as per the prevailing conception
hours we can meditate upon without mental diversion.
The tunes from the harp create rapturous vibrations,
her white robe and benign grace erase our mental abrasions
The swan indicates the power of discrimination
as it can suck milk from water and milk solution
and from amidst mire and mud, it picks up only the stem of lotus
inculcating the discriminatory power, a weapon of wisdom within us..
Queries of one Lord to many may be raised by some.
Accept her as an incarnation of the lord for art and wisdom
to find the pleasure and peace through meditations
getting bliss in mind amidst trials and tribulations.
Reflect for a while or ask a successful person
in the field of literature or in the scientific invention.
All wil agree, behind their success lies a power unknown
that incarnates within them to carve their creation
As mother Saraswati, let us worship that Heavenly power
as an incarnation of the formless Lord as the Godly mother.
Once a year at the start of the spring season on this day
though we worship her daily, special to her in mass we pray.
Hey, mother Saraswati the deity of learning and literature
also your affinity to the water we learn from the scripture!
on this auspicious day, we pray your kind grace
on art, wisdom, and water to us, you to bless.
(N . B – Today 10th February we worship Mother Saraswati. It is a day every year as per the Hindu calendar.)