A Cold, Dark Spring Day In France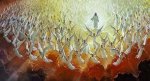 Fri, 27 Mar 2015
Words can still not convey
How much shock and sorrow
Is felt for so many lives that
Now reside amongst the angelic
French Alps.
 
How can an alluring, vibrant
Place to visit, where people
Can enjoy days filled with fun
And activities in the crisp, clear
Mountain air – glorious scenery,
Full of white, pure snow,where
Inspiration is born for writers,
Where films are made against
A fairytale backdrop, become a
Disconsolate place full of tears
And dark cries for succour?
 
Hearts bleeding for ones who
Never had a choice.Questions
That never will be answered –
So many 'what if's' for families
And friends torn apart,now in a
Constant whirl of, 'Why, oh why,
My love one's were chosen?
 
Only if you were in their world
Could you fully understand how
Their days and nights will be spent,
Endless hours of tormented hell.
 
No words can change the destruction
That's in our path, or bring back those
important lives now lifeless across
Estrop Mountain.And although we
Can no longer hug or call them,now
Angels of our sky.We can remember
Them, when we lie quietly alone with
Our thoughts, with lots of smiles,
Praise and grace,for all
They brought To us, and this...
Our precious life.