A single tear.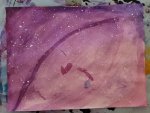 Tue, 16 Nov 2021
A gentle drip of starlight
falls upon my brow
I wipe it away 
and see, no, gawk
The Universe cries.
What mad idiot could make the universe,
In their infinite beauty
Shed a tear?
A question I've held all my years.
Please tell me. 
What brings you that crooked smile?
That wicked beautiful grin 
Of a person who feels a higher joy
I dare to say, nay,
I dare to command.
Please. 
What makes you whole?
What is joy? 
How do I smile again?
Why must I wear this mask of a smile?
I must know. 
Please. 
Ive begged every deity.
From Zeus to Glooskap
From Innana to the gods whose names were 
Lost to history.
So I prostrate myself to the sky, the Universe.
Tell me. 
Why?