2017 Personal Trainer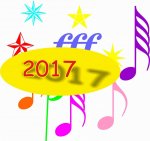 Sun, 01 Jan 2017
[Continuing the hymn-for-Sundays series]
Millennia scanned by eyes divine
with certain plan, and grace,
the peace he purchased can be mine
if I his love embrace.
Good resolutions I desire –
to want to do God's will;
may he not only such inspire
but help me them fulfil.
Please be my Trainer Personal
throughout this coming year,
to grow in goodness purposeful,
your comfort always near.
Tune:CM eg Crimond ( The Lord is my Shepherd) or tune of 'There is a green hill far away')