Accept or Refuse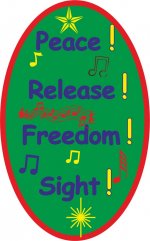 Sun, 24 Oct 2021
[Continuing the hymn-for-Sundays series]
Impoverished of perfect peace,
imprisoned, longing for release
from fears, injustices and pain,
blind to the grace that frees from blame.
Jesus said he's bringing peace,
said, in him, we'll find release,
but many will not bow, submit,
his power to rule and give admit.
The people turned, rejected him,
would not receive what he could bring
– not yet removal of all ill,
but grace, peace now, soon blessings full.
Jesus … found the place where it is written (Isaiah 61:1,2): "The Spirit of the Lord is on me, because he has anointed me to preach good news to the poor. He has sent me to proclaim freedom for the prisoners and recovery of sight for the blind, to release the oppressed, to proclaim the year of the Lord's favour" …'Today this scripture is fulfilled in your hearing.' All spoke well of him and were amazed at the gracious words that came from his lips.… took him to the brow of the hill … in order to throw him down the cliff. But he walked right through the crowd and went on his way. Luke 4: 14-30